Estimated read time: 8-9 minutes
This archived news story is available only for your personal, non-commercial use. Information in the story may be outdated or superseded by additional information. Reading or replaying the story in its archived form does not constitute a republication of the story.
VIDEO: Sunday Afternoon Mine Briefing... Click here to watchKSL Team Coverage
On the bleakest day yet in the search for six missing miners, their relatives marched toward news cameras and denounced the way the rescue effort was handled. Mining officials all but acknowledged today the six men are dead and their bodies might never be recovered, but the families don't accept that.
The latest drill hole found unbreathable air, and the mine continues to disintegrate, leaving only a shred of hope the men are alive. But angry families say the best rescue method hasn't even been tried.
The families have been largely silent until tonight, but this morning they heard the most downbeat assessment yet from mining officials, and they aren't ready to believe what they were told: that hope is almost entirely gone.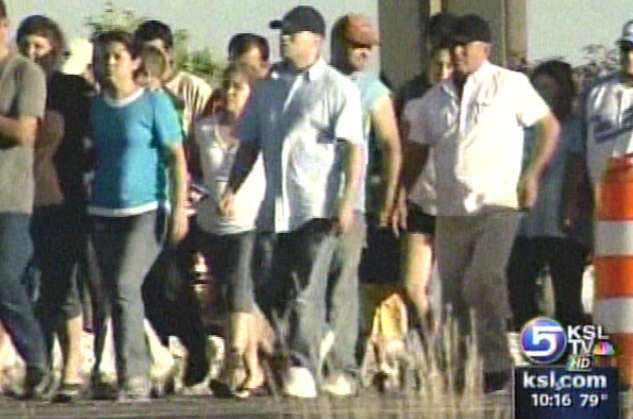 Rob Moore, Vice President of Murray Energy Corp., said, "It is disappointing and it's likely that these miners may not be found."
The first harsh reality was deep in the ground at the bottom of the 4th drill hole, where air quality is bad.
Richard Stickler, with the Mine Safety & Health Admin., told reporters, "The oxygen level would not support life."
They're starting to drill a fifth hole, but it offers only the slightest wisp of hope.
"It's likely that we'll see similar results there, but we can't say that with certainty," Moore added.
Another harsh reality could mean Kerry Allred, Luis Hernandez, Carlos Payan, Don Erickson, Manuel Sanchez and Brandon Phillips will be entombed in the mine forever. The mine is on the move, the same type of movement that proved fatal for three rescue miners. The coal seam is bumping and shifting under the weight of the mountain above, as coal pillars collapse like dominoes.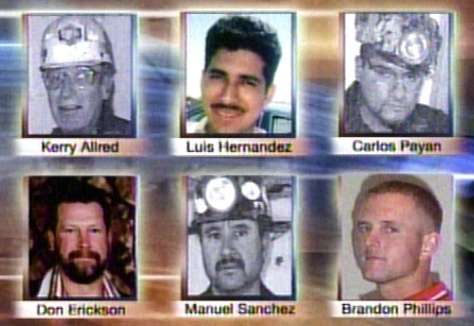 "And that process seems to be migrating out from the original area where the bump activity started," Stickler said.
Experts are trying to devise a safe way to resume an underground rescue, but officials cast serious doubt on it.
Moore said, "The risk is too great and we just simply cannot take the unacceptable risk and put additional lives in harm's way."
Sunday evening families of the six miners marched from a church across a highway to blast the rescue planners.
Sonny Olsen, spokesmen for families, said, "We have not lost hope that our loved ones are still alive and waiting to be rescued."
Olsen said they've asked since Day One for a rescue using a capsule lowered into a much larger drill hole. The technique was used successfully in a 2002 Pennsylvania rescue. The families say mining officials have stood around, scratched their heads and failed the families.
"The families feel that the rescue capsule is the safest and most effective method to rescue their loved ones. If the rescue is not possible, the capsule is the only method to recover our loved ones so they can have a proper burial," Olsen said.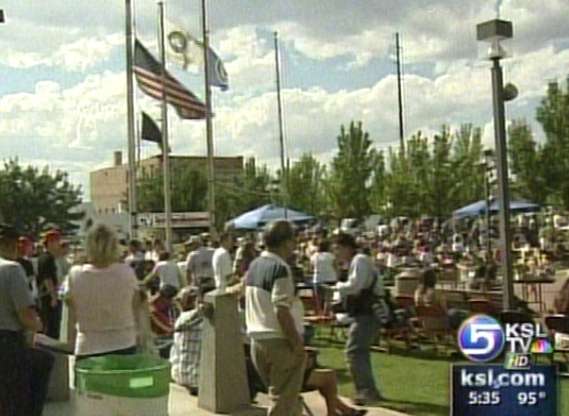 Mining officials have never ruled out a capsule rescue, but they have given it little support. In Utah it would be vastly more challenging than in Pennsylvania because the mine here is so deep and in such rugged terrain.
One of the three men killed in Thursday night's cave in was 48-year-old Dale Black. Today his family gathered to remember him.
Dale was one of 10 kids. His mother told Eyewitness News that Dale was always full of life and a pleasure to be around. "A nice kid though, a lot of fun, willing to help, just a good son," she said.

Dale Black leaves behind a wife and two children. Funeral services for Dale will be held this Tuesday in Huntington.
Twenty-nine-year-old Brandon Kimber and 53-year-old Gary Jensen were also killed while trying to rescue their colleagues Thursday night. Funeral services for Gary Jensen will be held Wednesday in Salina. We've heard no word yet on services for Kimber.
---
On the same day officials dashed hopes of finding the six miners dead or alive, communities from Emery and Carbon counties banded together to raise money for the miners and their families at the biggest fundraiser held yet.
Several hundred, maybe 1,000 people gathered tonight for the "Hope in the Dark" fundraiser. They gave their time, money and support to the miners and their families, the whole time saying, "it could have been me or my family."
Kim Martino, the fundraiser organizer, said, "You go underground every day with the thought that something might happen."
But knowing it could happen doesn't make the losses any easier or the hurts any less, even in a community where almost everyone knows someone who died trying to make a living.
Jimmy Jensen told us, "I myself had two uncles killed in mining accidents. And we're a small community, and so I guess we're all connected."
Miner Wade Norton said, "We're tight knit around here. Everybody helps each other. It's Carbon and Emery together, because that's our life, is the coal mines, and derives from all around that."
Every song, every donation, every raffle ticket had the same purpose. It makes the thought of leaving not one brother, but six buried in the Crandall Canyon mine almost unbearable.
Norton said, "I really hope I'm wrong, and that's what this is all about is hope. I hope we find them."
It's a shared hope embodied by the crowd in applause and tearful embraces as families of the trapped miners make one last plea to keep trying.
They called the event "Hope in the Dark" -- hope that one day the miners will be safer, the technology better. So many people saying this tragedy at Crandall Canyon needs to become a before and after for the mining industry. It was largely repeated that as the coal becomes harder to reach this community wants better safety and rescue practices to be put into place.
To sum it up, three wishes: healing, safety for the miners, and hope for the future.
So what's next, now that the mining company has said the chances of finding the men is unlikely? The mine company says they will begin drilling a fifth bore hole, and that they will continue working in the mine.
Moore said, "It would be our intent to continue mining. This mine has operated safely in the past. Prior to these tragedies we had operated 337 days without a loss time accident."
We spoke with a friend of one of the rescue workers killed. She says the mine should be shut down. "If you ever had a cave-in or an explosion and they could never retrieve their brothers in that mine, it was closed off like a tomb, and you gave that the respect of a burial ground and a resting place for your loved one."
Linda also said it's considered bad luck to reenter the mine.
---
A timeline of events
August 6th a mine collapse traps six miners underground and rescue efforts begin. Bob Murray said, "We will be here on our feet until we get these men out, one way or another." The miners were three and a half miles from the mine entrance, but rescuers worked with everything they had. Julie Jones son worked to rescue the men. She told us, "he says, 'Mom, we're digging with our hands to get these guys out.'"
On day three, drilling began on the surface, giving family and rescue crews hope. Bodee Allred, whose cousin is one of the men trapped in the mine, said, "I have full faith they are in there alive and breathing."
The first small drill hole punched through the ground on day five. Tests showed oxygen levels weren't high enough to sustain life, but crews didn't give up. Richard Stickler said, "We're optimistic, we're enthusiastic, we maintain our hope." Rescue teams continued their work underground, using steel beams, timber and chain fencing., but it was slow work.
On the sixth day, the second hole bore through. A camera found survivable space but no sign of the men.
Tests on day eight showed air from the second hole was also not survivable.
The next day, the mining company released video of the workers underground. They had gone 700 feet out of 2000.
By day ten, a third borehole was done. Crews heard a potentially positive sign within the mine. Richard Stickler explained, "We saw some indication of noise for a period of about five minutes." But that possible good news was followed with a loss no one could have imagined.
On day 11, a wall of coal exploded underground, injuring six rescuers and killing three others, who were hailed as heroes. Robert Jensen, Son of Gary Jensen, said, "He gave it up for something he believed in." Brandon Kimber's ex-wife said, "He did die a hero, and he gave himself unselfishly."
After that, underground rescue efforts were stopped indefinitely.
By the 13th day, a fourth hole was complete, but every attempt to contact the miners proved fruitless.
×
Related links
Most recent Utah stories