Estimated read time: 2-3 minutes
This archived news story is available only for your personal, non-commercial use. Information in the story may be outdated or superseded by additional information. Reading or replaying the story in its archived form does not constitute a republication of the story.
Whit Johnson ReportingThe people of Carbon and Emery counties are coming up with creative ways to raise money for the families of the trapped miners and rescuers who were killed.
Whether it's a rodeo for children, a small car wash, or a message of hope painted on your car's back windshield, this community is literally paying respect.
"We've got to keep our hope alive," said Frances Anderson. "There is hope. We can't give that hope up."
Outside the Taco Time in Price, people organized a car wash. The cost was a simple donation of any size. Many of the people who showed up work in the mines themselves or have family who do.
"I remember when I was a girl, my dad would go to work and make sure I gave him a kiss and a hug before he left. I always wondered, 'Is he going to come home in the morning?'" said Erin Kulow.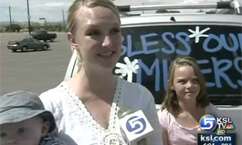 We also found a family in the Wal-Mart parking lot who were painting inspirational messages on car windows and collecting donations in the process. They raised about $1,000.
"We brainstormed up an idea to come out here and sit in front of Wal-Mart with our markers and a poster saying a dollar a window, just see how well it went," said Jessica Bentley.
These are just a few of the ways people are raising money to help families affected by the Crandall Canyon mine disaster.
"The families of the miners are in our hands. And the miners are in the Lord's hands," Bentley said.
At each fundraiser there was no shortage of smiles. No shortage of cash, either, as a community with so much in common comes together and tries to move forward.
"It can bring back memories. I myself lost my father when my mother was seven months pregnant with me. He was killed, left my mother with my two brothers and me on the way. Everybody has similar stories," said Frances Anderson.
There is a real feeling of unity in the area. People are not just waiting to see what happens. They're doing everything they can to help.
Another fundraiser is planned for tomorrow with live entertainment at the Price City Peace Center. That's at 4 p.m.
Money raising efforts aren't limited to Emery and Carbon counties. The Bountiful Performing Arts Center is donating all of the proceeds from Monday night's performance of Saturday's Warrior to the families of the lost and injured miners.
×
Most recent Utah stories