This archived news story is available only for your personal, non-commercial use. Information in the story may be outdated or superseded by additional information. Reading or replaying the story in its archived form does not constitute a republication of the story.
SALT LAKE CITY — At Hildegarde's Food Pantry at St. Mark's Cathedral, a smiling staff retrieves items from a set of shelves that stands almost bare except for a stack of egg cartons and a few other, scattered items.
July and August are typically a period of low donations for food pantries and food banks, Hildegarde's supervisor Lydia Herrera said as she scanned the shelves. But this year has been especially difficult.
"I've never seen it low like this year," she said. "This year is way too low."
---
I've never seen it low like this year. This year is way too low.
–- Lydia Herrera
---
Hildegarde's, like many of Utah's food pantries, receives its supply in large part from the Utah Food Bank. Beyond that supply, they rely on a combination of local donations from businesses and community members. Herrera said donations have decreased, their demand has increased and their supply from the food bank has been drastically cut.
"I used to receive eight to 10 pallets, now it's only four to six," Herrera said.
It's a problem that has become widespread as food donations have decreased. Ginette Bott, chief marketing officer for the Utah Food Bank, said Friday that the situation has reached a point that if things do not change, the food bank could exhaust its food supply in one month.
"Last month they received one-third of what they normally would have," Bott said. "This year we're experiencing kind of a dilemma because in addition to those donations, government commodities have also decreased and that's had a huge impact on the amount we can give to our agencies, who in turn give out to families in need."
Bott said the food bank supplies agencies in every county in the state. Each county has different needs, but no area of the state is completely free of families requiring assistance. In her opinion, no one in Utah should go to bed at night hungry.
---
Hunger doesn't take a vacation like you do. Hunger knows no season, hunger is with us all the time.
–- Ginette Bott
---
Bott said the food bank typically tries to have a three- to four-month supply on the shelves. She estimated that currently they are at less than 25 percent capacity, but not all of what is on hand is edible.
"If you were to come into the warehouse today and look around, the shelves look relatively full," Bott said. "But if you were to look more closely, you would see that most of those are non-food items."
In addition to supplying food pantries, the food bank also distributes food boxes to 2,500 senior citizens in Salt Lake County each month. Those boxes are intended to supplement individuals' monthly purchases, Bott said, and to help bridge the gap between government aid checks.
Because of the nature of the boxes, they require a specific set of foods that Bott said are the least in supply and will be exhausted in two weeks.
"The boxes won't be as robust," she said. "They won't be as full and the variety won't be as great."
To get through the summer, the food bank is asking individuals and companies to help, either by organizing food drives or simply donating cash and excess foods.
"Any of the things that you would feed your family for a meal are exactly what we're asking you to donate to the food bank," Bott said.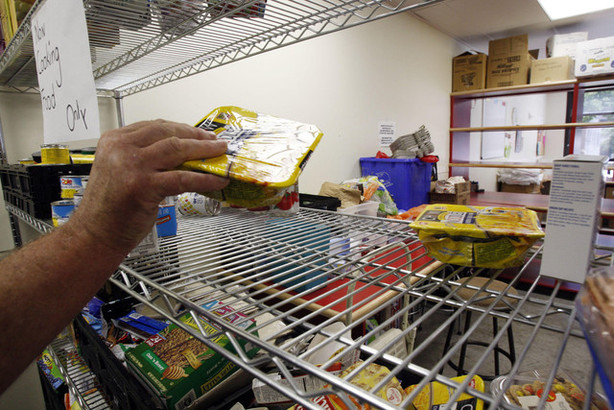 Bott believes the Utah community supports the food bank whole-heartedly, but during the summer months when many people are vacationing and the holidays are out of mind, it can be easy to forget to give.
At the same time, summer months have an increased need for some families, Bott said. Children who would otherwise be eligible for as many as three meals a day through their school districts are at home, putting a larger burden on their parents to provide food.
"Hunger doesn't take a vacation like you do," she said. "Hunger knows no season, hunger is with us all the time."
With the recent closure of some downtown food pantries, Hildegarde's fold has grown. Herrera said the pantry serves between 1,800 and 2,000 people each month, many of whom have families. As the weeks pass, it has become harder and harder to match the supply with the demand.
"We will be out of food soon," Herrera said.
Individuals are able to visit the pantry up to two times each month. Unlike some pantries, Herrera said Hildegarde's is not exclusive to residents of a certain zip code. Anybody can have food, she said, no matter where they come from.
"And they come," Herrera said. "They really do come twice a month."
Email:benwood@desnews.com
×
Photos
Related Links
Related Stories