Estimated read time: 4-5 minutes
This archived news story is available only for your personal, non-commercial use. Information in the story may be outdated or superseded by additional information. Reading or replaying the story in its archived form does not constitute a republication of the story.
**Saturday Evening News Conference... Click here to watch**John Hollenhorst and the AP Reporting
Rescuers found no signs of life Saturday after drilling a fourth hole into the collapsed Crandall Canyon mine where six workers have been trapped nearly two weeks, a disheartening blow in a rescue effort that has killed three other people.
A microphone lowered into the new hole revealed nothing to indicate that anyone was in the cavern, and attempts to communicate with the miners by tapping on a drill bit yielded no response, a federal official said.
This leaves many questions and few answers. But officials say they will continue. "We have encountered setbacks. We have incurred losses. But we have not and will not give up hope," said Rob Moore, vice president of Murray Energy Corporation.
Officials didn't reveal much Saturday night about the rescue efforts, but emphasized that this is still a rescue operation.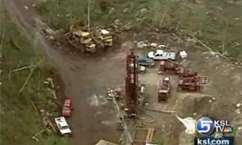 Underground tunneling has been halted since a mountain "bump" Thursday killed three rescuers and injured six others. After that tragedy, everyone was hoping for some good news, any hint the six trapped miners are alive. It didn't happen.
This effort to locate the miners by drilling down into the mine met with the same frustrations as the first three -- silence in the hole, after attempts to signal the miners by banging on metal.
"We also set off three rounds of explosive charges to try to signal to the miners underground," Richard Stickler of MSHA said. "We did not detect any signals from miners underground."
So far they've released no results from underground air samples and no video from a camera they put down the hole.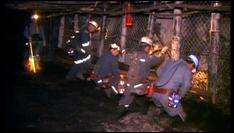 Stickler said a fifth hole was planned.
Sunday a team of experts flying in from around the country will have its first meeting. Team members will reconsider the ill-fated underground mining rescue which killed three rescuers Thursday.
"These experts will be reviewing the conditions here at the operation, and make an assessment on the conditions, to determine whether there's any feasible way that we could resume the recovery work in number one entry underground," Stickler said.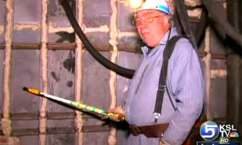 A question on many minds is why mine owner Bob Murray has seemingly disappeared from the news briefings since Thursday. His vice president says it's because every second of his time is consumed by the rescue and by ministering to the families of miners.
"This tragedy has obviously, and I'm sure you can all appreciate that it's taken a toll on him. He is a very strong individual. He's very passionate about his people, cares very deeply for his people. He feels that right now the best thing is to administer to those families," Moore said.
Officials are not willing to put timetables on any steps they're taking or on when the operation will end.
"I can't tell you how long it's going to go. And as long as we have hope, we're going to continue working and doing everything that we can," Stickler said.
One slightly encouraging thing is that the fifth drill site is ready to go. The road to it and the drill pad are prepared. So they may be able to start drilling that hole within a matter of hours.
Governor Jon Huntsman says he will create a state panel to investigate the Crandall Canyon mine disaster, when the crisis is over. One of the issues the panel will address is, should the state get involved in regulating mine safety? Utah gave up authority to the federal government long ago.
Huntsman says he wants to know if there's a reason to get involved. Senator Mike Dmitrich of Price is a mining consultant and says he doesn't think so. He says that would be like having two bosses.
Meanwhile, Congress says it too, will investigate the mine disaster, asking questions about mine safety and how to improve it. The chairwoman of the Senate subcommittee that oversees mine safety promised a congressional probe, as did the head of the House Education and Labor Committee.
Senator Edward Kennedy says, "We owe it to all those affected by this tragedy and to mine workers everywhere to find out why this accident occurred, and how future disasters can be prevented."
The three victims of Thursday's mountain "bump" were identified as MSHA inspector Gary Jensen, 53, of Redmond; miner Dale Black, 48, of Huntington; and Brandon Kimber, 29, a miner from Price.
The Associated Press reported funeral services for Black were set for Tuesday at the Little Bear Campground in Huntington Canyon, not far from where he died. Funeral arrangements for Jensen and Kimber were unclear.
Three other rescuers were treated at a hospital and released, while three more remained hospitalized Saturday night.
(The Associated Press contributed to this report)
×
Related links
Most recent Utah stories