This archived news story is available only for your personal, non-commercial use. Information in the story may be outdated or superseded by additional information. Reading or replaying the story in its archived form does not constitute a republication of the story.
Lyric International has produced the three-wheeled transporters for several years in Europe, and now they're available in the United States. In fact, the first U.S. dealership has just opened in Draper.
The PTV is compact (you can fold it up to about one-third its original size); it runs on a lithium-ion battery, has good speed and decent range.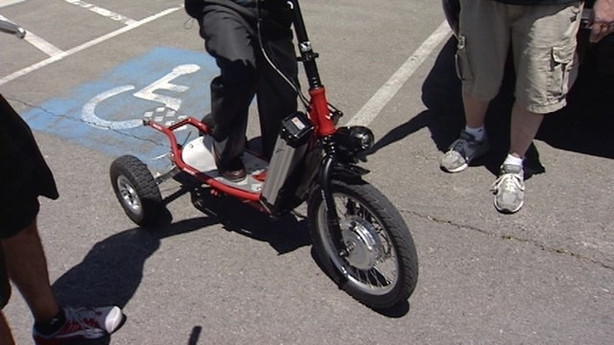 "When it's buzzing down the street, it pulls people over", says Cy Waldron, Lyric Motion President. "We have people following us home, or coming into the store and saying what is this, I gotta check it out."
For anyone looking for a second vehicle, and doesn't mind a little wind in their face, the PTV may be for you. "The base price starts out about $2,300", Waldron says. "It goes 22 miles per hour, and up to 30-33 miles per charge."
Lyric says the timing of bringing the PTV to the U.S. is perfect. With gasoline prices what they are, people are looking for alternatives. And this design has an attractive environmental element.
"People are more conscious about how often they use a car," says Lyric International President and CEO, Carolin Gey. "What kind of pollution it makes, not just the gas price but also the pollution. This is noise free. So people now have a noise free, pollution free alternative to go places, anywhere you want to go."
What is... PTV?

The Lyric PTV is a 3-wheel electric Personal Transportation Vehicle that can travel up to 35 miles on a single charge at speeds of up to 22 miles per hour. Available with either a 500 or 1000 watt electric hub motor integrated into the front wheel, the LYRIC is powered by lithium polymer batteries optimized for voltage use and rapid charging. It also has self-adjusting dual hydraulic disc brakes and independent axles. -Lyric
The Lyric PTV is street legal, so you follow the same rules as if riding a bicycle. But it can go off-road, and has the power to handle most types of mountain biking trail.
One other feature of the Lyric PTV that causes people to turn heads is it's collapsible. Undo a couple of latches, and in less than a half minute, it's small enough to fit in the back seat of your car. At about 67 pounds, it's easy to lift in and out of any vehicle.
There are a variety of for these PTV's. The North Salt Lake Police Department has just purchased two for patrolling streets and sidewalks. Draper and West Valley City has also put in orders. Employees at security companies use them to patrol large building sites and properties. The PTV's can also be modified for those with disabilities; and there's even a design to accommodate golf clubs.
Lyric has big plans for the future. With its manufacturing facility in Tempe, Arizona, the goal is to open 100 dealerships in the U.S. in the next 3 years. The Draper store, located at 196 West and 12300 South has been open for about 3 weeks, and has already sold about 20 vehicles. The company will have its grand opening this Friday and Saturday.
E-mail: kmccord@ksl.com
×
Photos
Related Links