This archived news story is available only for your personal, non-commercial use. Information in the story may be outdated or superseded by additional information. Reading or replaying the story in its archived form does not constitute a republication of the story.
SALT LAKE CITY — After having two cancerous masses removed from his chest in May, 21-year-old Eli underwent more surgery Tuesday to remove all traces of potentially cancerous tissue from his body.
Eli is a 200-pound orangutan who lives at Utah's Hogle Zoo.
Did You Know...
According to the Wildlife Conservation Society, wild animals die of cancer at about the same rate as humans, and it threatens some species with extinction.
Zoo animals are more likely to get cancer than animals in the wild. Pathologists at the National Zoo in Washington, D.C., say this is because they live longer and are more likely to reach the "tumor age."
In addition to cancer, zoo animals suffer from typical aging maladies such as hearing and sight loss and dementia.
The procedure reportedly went well and though Eli may still be a little weak from the anesthesia, he should be back in his cage in no time.
Lindsay Sine, the community relations coordinator for the zoo, said that in the staff's research preparing for the surgery, they could not find a single documented case of breast cancer in a male orangutan.
"In his case it was super rare," Sine said. "Breast cancer in human males alone is rare, so imagine how rare it was in a great ape."
Eli is expected to recover well, Sine said. Procedures like the one he underwent Tuesday normally do not have a lasting effect on an animal's behavior.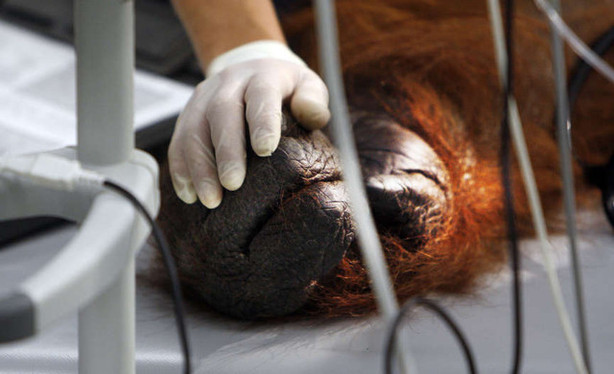 "Just like any human when you go under, you wake up and are a little groggy," Sine said.
She said Eli will be monitored to make sure he has a healthy recovery from the procedure and that he remains cancer-free.
For all the animals at the zoo, Sine said, cancer and other diseases are concern. The staff is careful to monitor the animals for symptoms.
"They are just like us. They can get cancer," Sine said. "Sometimes it does happen, and they can't tell us if they're feeling sick."
Eli is one of three orangutans at the zoo and the only male. He has been at Hogle for years and, at age 21, is considered an adult for the species but not yet elderly, Sine said. With the help of his recent surgeries, Eli should have many more years ahead of him.
"It was necessary just to make sure we got out everything that needed to come out," Sine said.
Story written by Benjamin Wood with contributions from Nkoyo Iyamba.
×
Photos