Estimated read time: 2-3 minutes
This archived news story is available only for your personal, non-commercial use. Information in the story may be outdated or superseded by additional information. Reading or replaying the story in its archived form does not constitute a republication of the story.
Carole Mikita ReportingTwo inmates at the Utah State Prison recently created artwork to express their sorrow at the death of a corrections officer. They sent it to his family.
It's the story of a heartfelt connection that reaches beyond a barrier.
The day corrections officer Stephen Anderson was killed transporting inmate Curtis Allgier to the hospital, the Utah State Prison went into lock down. The prisoners at the Promontory facility, a drug rehab unit, soon found out why.
Picture framer Blaze Wild said, "Our hearts in here go out to that family. The officer didn't deserve that, and we really hope that this will touch their hearts and they'll be able to get past the pain," he said.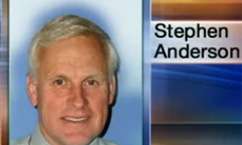 Wild and Jeff Ellis have worked on art projects together. They wanted to do something that would both express their sorrow and send a message of hope.
Jeff Ellis said, "I was doing a picture of Jesus and I just thought, you know you gotta give. I told Blaze, 'Why don't you make a frame for this picture? We'll donate it to the Anderson family, and maybe it'll help to ease their pain.'" The picture now has a special place in Officer Anderson's home. His family says it's appropriate; he was a man of faith.
Michelle DeHaan, officer Anderson's daughter, said, "The Savior is everything to us. We are just very appreciative of this picture. We love it, and it's wonderful of these two men to show their kindness and love and concern for our family."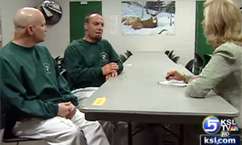 They worked with materials in the prison. The picture is a pencil drawing, and the frame is made of rolled newspaper, bread and cereal.
The inmates say the drawing of Jesus represents officer Anderson's kindness to them. He lived the Golden Rule.
"He treated the guys here real well, and I feel bad that something like that had to happen to him," Ellis said.
Michelle DeHaan said, "Dad did not judge people. He respected everyone and showed everyone kindness. He was a man of example. He was a good example to those around him because of the way he treated people."
The family and the inmates may never meet, but from behind prison walls came this drawing that says more than words can convey.
Jeff Ellis and Blaze Wild say they had the support of their fellow inmates in the Promontory facility and their guards. The inmates also collected more than $1,000 in donations for the Anderson family.
×
Most recent Utah stories