Estimated read time: 3-4 minutes
This archived news story is available only for your personal, non-commercial use. Information in the story may be outdated or superseded by additional information. Reading or replaying the story in its archived form does not constitute a republication of the story.
John Daley Reporting Election time is coming soon, in Salt Lake City at least. Voters will go to the polls to elect a new mayor, and the candidates are all positioning themselves in comparison to the man leaving office.
This is the image many people have of Rocky Anderson: visionary to some, lightning rod for others, shining the spotlight on society's problems from the steps of City Hall.
The top-tier candidates aiming for his job, if not his notoriety, all are current or former officeholders.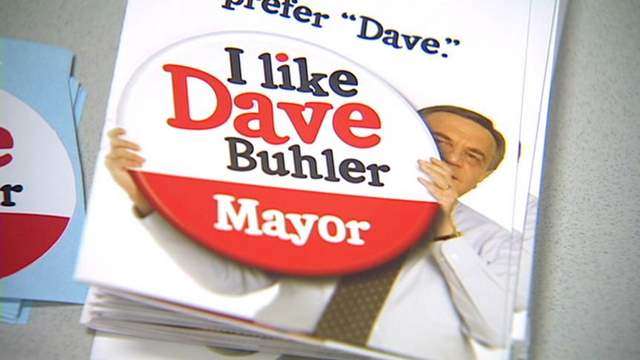 One, City Councilor Dave Buhler, a Republican, is promoting himself as the anti-Rocky. His ad says, "As mayor, I'll keep right on listening and leave the (noise) to others."
Buhler told us, "I think that people want a reasonable person who can get along with others and, most importantly, can get things done."
Anderson supports Republican-turned-Independent former council chair Keith Christensen.
"I'm the guy in the race that's not a politician. I don't make my living in politics. But I'm passionate about Salt Lake City," Christensen said.
Anderson appears in his ad, saying, "There's a race going on. Only this race is different. Only in this race, if one person wins, we all win."
The latest poll for KSL-TV and the Deseret Morning News by Dan Jones found County Councilor Jenny Wilson in front, followed closely by Buhler, state lawmaker Ralph Becker and Christensen.
The two leading Democrats in this non-partisan race are Becker and Wilson.
Ralph Becker said, "I'm in a position to take our city forward to become the great American city that we have the potential to be."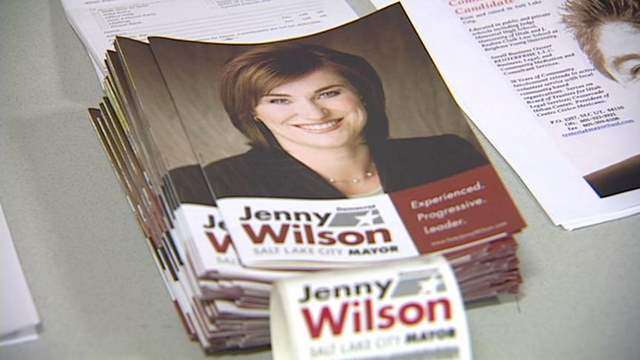 And Jenny Wilson said, "I believe I have the right experience for this job, and I also have a proven record of success at Salt Lake County."
The two embrace many Rocky positions, while offering a conciliatory style.
A Wilson for Mayor ad says, "First, a task force I chair is already at work on a strong clean-air plan. TRAX funding is critical; that's why I helped fund the new airport line."
A Becker for Mayor ad says, "Some believe Ralph Becker has a secret identity, because when Ralph sees out-of-control development, more traffic and failing schools, Ralph becomes the hero Salt Lake City needs. Blueprint man."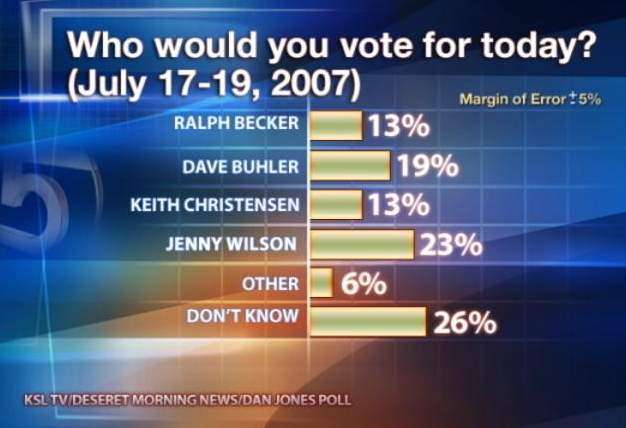 Today that group, joined by two others, made their case for their leadership at a debate at LDS Hospital.
Candidate John Renteria said, "For me, it does happen to be downtown revitalization, and concerns that we have on the west side that have gone unnoticed an neglected over the years."
And candidate J.P. Hughes said, "I have no idea who will win this, even of the four, if I were included. I don't think, with 24 [26] percent uncertain about it ... that the race is really up in the air, I think."
The primary will be held on a date we can all remember -- September 11. The two top vote-getters will move on to the general election in November.
The last time the Salt Lake mayor's race was this wide open was the last time there was no incumbent. That was back in 1999 when Rocky Anderson prevailed in the campaign to replace Deedee Corradini.
×
Most recent Utah stories