This archived news story is available only for your personal, non-commercial use. Information in the story may be outdated or superseded by additional information. Reading or replaying the story in its archived form does not constitute a republication of the story.
SUMMIT COUNTY -- A Summit County man is one of the rare few who can brag that he stood up to a mountain lion and won the fight.
The cougar's teeth left dents in Troy Vincent's shoes, but he came out on top and the cougar has vanished.
The Wanship resident survived an extremely rare event: a physical tangle with a mountain lion. "I was shaking for about three hours, non-stop," Vincent said. "I couldn't even talk. It scared me pretty bad. It was the worst thing that ever happened to me."
It happened in a semi-rural residential area just below in Wanship Dam. Saturday afternoon, Troy Vincent was kneeling in his driveway doing a project. The cougar had apparently walked toward the driveway along a fence line without knowing Vincent was kneeling just around the corner of the fence. "He didn't see me until he come around the corner," Vincent said. "But when he saw me he made a little growl. I turned around and the mountain lion was eye to eye with me about three foot away. And I was scared."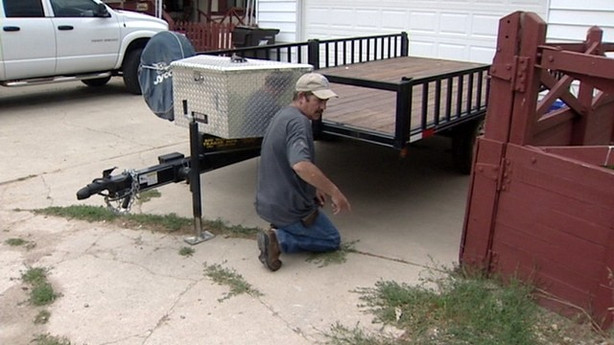 As Vincent stood up, the animal swatted the calf of Vincent's leg with its paw. Vincent said it felt like a boxer had punched him, but the claws did no damage.
Instead of running away, a tactic that often encourages a big cat to pounce, Vincent stood his ground. "And then I kicked him in the face real hard and hit his two canine teeth with my toe, Vincent said. "It was pretty scary."
The animal's teeth left marks in Vincent's shoes, but did not penetrate to the skin. Vincent's tough response apparently worked; the cougar ran away and hasn't been seen since. A team of dogs brought in by the Utah Division of Wildlife has been unable to locate the cougar.
"It's probably gone," said Phil Douglass, a spokesman for the division. "But if we do get another sighting, we'll be on there to try to track it." If the animal is captured, division officials will probably kill it as a safety measure to protect the public. "It is very likely that we would euthanize the animal because of the sightings that have taken place in that area," Douglass said.
---
If he was in a full stalk after me, I think he would have got me. He wouldn't have made no noise. He would have got me by the back of the neck.
–- Troy Vincent
---
Several environmental groups voiced concern about the division's tough stance. "This cougar was not showing aggression," said Kirk Robinson of the Western Wildlife Conservancy. Jake Schipaanboord, executive director of the Utah Environmental Congress said, "It seemed like the cougar was just in a bad place at a bad time. It took off when challenged and doesn't appear to be a threat."
Vincent would accept whatever decision the division makes, but he agrees that killing the animal is probably unnecessary. He calls the incident a surprise chance encounter, not an attack.
"If he was in a full stalk after me, I think he would have got me," Vincent said. "He wouldn't have made no noise. He would have got me by the back of the neck. "
Still, as the animal ran away, Vincent himself grabbed an axe. That's because he saw his own children coming down the street. "Riding their bikes this way, right when it happened," Vincent said. He ran after the cougar with the axe to make sure it was gone. "I would have killed it if I had to," Vincent said.
Wildlife officials agree it's a borderline case, but to be safe, they think the animal needs to be eliminated.
E-mail: hollenhorst@ksl.com
×
Photos
Related Stories