This archived news story is available only for your personal, non-commercial use. Information in the story may be outdated or superseded by additional information. Reading or replaying the story in its archived form does not constitute a republication of the story.
ELKO, Nev. — A judge Thursday ordered a woman accused of helping her boyfriend kidnap and kill a 16-year-old West Wendover High School student to stand trial on what he called "slight or marginal evidence."
Toni Fratto, 19, was ordered to stand trial on new, additional charges filed Wednesday in the death of Micaela "Mickey" Costanzo. Fratto now faces charges of felony kidnapping or acting as a principal to kidnapping; conspiracy to commit felony murder; felony murder or acting as a principal to murder; and willfully destroying evidence or willful destruction of evidence, a misdemeanor.
Fratto and her boyfriend, 18-year-old Kody Lee Patten, are accused of kidnapping Micaela, killing her, and burying her body in a shallow grave in the desert outside of West Wendover.
Prosecutors admitted there were conflicts with the timeline of events laid out by witnesses, but Elko District Attorney Mark Torvenin argued it should be left to a jury to decide.
"We have met that burden (of proving enough evidence for a trial) and are entitled to our day in court," he argued. "The fact of the matter is she confessed twice to murder."
But defense attorney John Springgate argued that those two confessions came from non-credible sources. In addition, there is not one piece of forensic evidence or eyewitness that links Fratto with the crime, he said, and that includes a lack of fingerprints, footprints or blood evidence.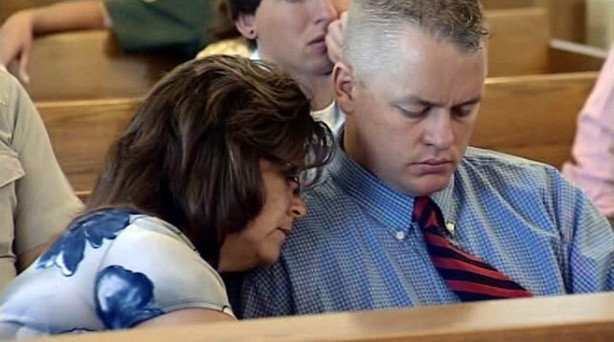 "There's nothing," he said.
Springgate took issue with the testimony of Kip Patten, Kody's father who said Fratto told him all about the killing. The defense attorney also took issue with the taped confession Fratto conducted with Kody Patten's attorneys, calling both "wholly rubbish."
Kody Patten was arrested in the death days later. On April 22, Fratto sat down with Kody Patten's attorneys to confess she had helped her boyfriend in Micaela's death. That recorded confession was later turned over to police who subsequently arrested Fratto more than a month after Patten's arrest. Until that point, Fratto had never been mentioned as a possible accomplice.
Springgate argued the tape was a violation of attorney-client privileges and the attorneys who interviewed Fratto were not honest with her. "I'm suggesting they know better and they lied to her and there's no other way to put it," he told the judge.
The tape, a very poor audio recording, was played in court Thursday. For many of Fratto's and Micaela's family members, it was the first time they had heard it.
At the beginning of the recording, Fratto sounds unsure about the procedures, asking the attorneys if they will be able to represent her or if she needs to get her own attorney.
According to Fratto's version of events, Micaela had been texting Kody Patten wanting to get back together with him. That contradicted testimony given Wednesday by Micaela's best friend who said Costanzo rarely spoke to the former boyfriend and wanted nothing to do with him.
Patten said he picked Micaela up so they could talk, according to Fratto. He then picked Fratto up and the three drove to an area outside of town because Micaela "didn't want anyone to see us or anything," she testified.
---
According to the man's father, Kody Patten and Fratto were talking about getting married and his son had just been baptized into the LDS Church in January so that he could have a temple marriage with Fratto.
---
During the drive, Fratto said in her recorded confession that Micaela was getting agitated with her and Fratto. "We didn't want to cause any problems or have any problems. We wanted to work everything out," Fratto said.
Finally, they stopped the car and Micaela and Patten got out and talked. The talking turned into yelling and shoving on both sides, she said.
"I looked away, and then heard a loud thud on the car," Fratto said. She got out of the car and saw Micaela lying on the ground.
"Everything from there on out was kind of a blur to me," she said. "It went downhill from there."
She told attorneys that she and Patten "were freaking out. We didn't know what to do."
Fratto said she hit Micaela in the back with a shovel and then both she and Patten cut her throat. When she and Patten drove away from the scene, she said they were both in shock and kept asking themselves, "What did we just do? What do we do? We didn't know what we had just done."
Kip Patten said Fratto told him that after the killing, the two went to a local swimming pool to "clean up." They then picked up Patten's cousin and his girlfriend in Wendover, Utah, and went to McDonald's.
But Springgate argued that Fratto's entire recorded testimony was not credible and parts of it were simply made up. He noted that there were elements of her story about how Micaela was killed that were not correct. He said witnesses and surveillance video from the school only place Patten at the school when Micaela was taken, not Fratto.
"Kody Patten is essentially stalking her. He's hunting her down," Springgate said.
Torvenin noted, however, that there were elements of the crime that had not been made public that Fratto knew.
Earlier, the tension in the courtroom picked up when Springgate grilled Kip Patten. Springgate said Patten actually found out about Fratto's involvement based on a conversation with his son while visiting him in jail on April 13. He said the father and son passed handwritten notes to each other to avoid being heard by the jail's cameras and audio recordings.
On April 16, Fratto confessed to Kip Pattten about her involvement and he said she took him around to the different areas associated with the crime. On April 22, Kip Patten drove Fratto to the office of his son's attorneys so she could make a confession. It was on a day Fratto's parents were out of town. Patten drove Fratto even though he knew her parents didn't want her talking to an attorney without them.
"She said she wanted to come forward with it," Kip Patten testified. "She didn't want Kody to pay for something they both participated in."
As for a motive, Kip Patten said he asked Fratto why they killed Micaela.
"Toni said she didn't know. I don't recall. I'm pretty sure she said she didn't know," he testified.
During cross-examination, Kip Patten said Fratto and Micaela "didn't get along."
According to the man's father, Kody Patten and Fratto were talking about getting married and his son had just been baptized into the LDS Church in January so that he could have a temple marriage with Fratto.
A two-day preliminary hearing for Kody Patten is scheduled to begin Aug. 2.
Email:preavy@ksl.com
×
Photos
Related Stories