This archived news story is available only for your personal, non-commercial use. Information in the story may be outdated or superseded by additional information. Reading or replaying the story in its archived form does not constitute a republication of the story.
SALT LAKE CITY — Gov. Gary Herbert said Wednesday his predecessor, GOP presidential candidate Jon Huntsman Jr., can expect a "friendly crowd" at the National Governors Association annual meeting here.
---
Why not go to what I would consider to be a friendly crowd of governors who probably relate to his past experience? It only makes sense.
–Gov. Gary Herbert
---
"Gov. Huntsman has an opportunity to come back and visit with his former colleagues," Herbert told KSL News, "and explain his experience and background, and particularly his international experience" as a former U.S. ambassador to China.
"It gives a chance for him to burnish his credentials and his credibility as a presidential candidate," Herbert said. "Why not go to what I would consider to be a friendly crowd of governors who probably relate to his past experience? It only makes sense."
Huntsman is scheduled to be in Utah for two days beginning Friday, the start of the three-day annual meeting of the nation's governors at the Grand America Hotel. A U.S.-China trade conference will be going on at the Little America Hotel.
So far, the only event on Huntsman's Utah schedule that's been made public is a motorcycle ride midday Saturday between the Harley Davidson dealership in Salt Lake City and Plaza Cycle in South Salt Lake.
Huntsman told KSL Newsradio's Doug Wright earlier this week the public was invited to join the half-hour ride, set to end at 2 p.m. with a public appearance at Plaza Cycle.
"It should be a fun time for all," Huntsman said during his radio interview. "Come by and let's chat, see what's on your mind, where you are on the issues."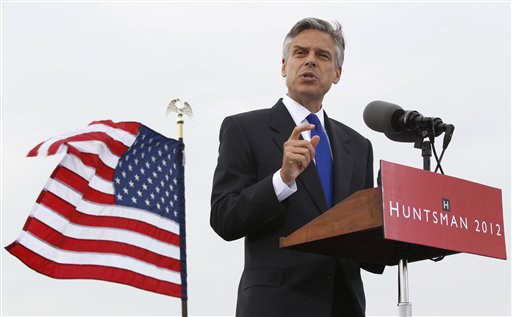 But Huntsman is also expected to spend time talking with at least some of the Republicans among the 35 or so governors expected to gather in Utah for the first time since 1947.
None of his declared GOP competitors for the White House are expected to be at the meeting, even though all former governors are welcome and, so far, two are also running for the Republican nomination.
Former Massachusetts Gov. Mitt Romney and former Minnesota Gov. Tim Pawlenty, though, are skipping the meeting. And so, apparently, is current Texas Gov. Rick Perry, an increasingly likely presidential candidate.
But outspoken New Jersey Gov. Chris Christie, another sitting Republican governor who continues to be pressured to make a run, reportedly will be at the meeting.
Governors "are uniquely suited to be president because they do have executive branch experience," Herbert said. "I think it's a good training ground to become president. I think that's why you see so many of them running."
Herbert was elected twice as lieutenant governor with Huntsman before taking over the post when Huntsman resigned in 2009 to become U.S. ambassador to China. Last year, Utahns elected Herbert to finish the remainder of Huntsman's term.
Despite his close ties to Huntsman, however, Herbert has not yet made an endorsement in the 2012 presidential race. A Romney supporter in 2008, Herbert said he has "two of my best friends running for president" this time.
And Utah's governor said he wouldn't be surprised if Perry does decide to show up for the NGA meeting in Utah after all.
"I keep thinking Rick might slip into town unexpectedly," he said. "I know Rick is taking a hard look at what he wants to do."
The more candidates the merrier, Herbert said.
"I'm one who believes that the more people who throw their hat in the ring, the more choices we have, the better we get to refine the eventual nominee of a party — the best opportunity for us the best opportunity for us to get the best of the best to become president," he said.
Email:lroche@ksl.com
×