Estimated read time: 3-4 minutes
This archived news story is available only for your personal, non-commercial use. Information in the story may be outdated or superseded by additional information. Reading or replaying the story in its archived form does not constitute a republication of the story.
FARMINGTON — The Station Park development in Farmington came to a halt in 2007 when the economy tanked.
"None of the retailers wanted to expand, so the project got put on hold for a couple of years," Farmington Mayor Scott Harbertson said.
But now it's full speed ahead. By the summer of 2012, the Station Park project will have as many as 200 tenants, which will include a mixture of entertainment, retail, restaurant, office and hotel space. That's 900,000 square feet on 67 acres of land.
Stores opening in Station Park
Chase Bank -- September 2011
Cinemark Theater -- July 2011
Famous Footwear -- September 2011
Harmon's -- Open
Home Goods -- August 2011
Marshall' -- October 2011
Park, foundation, children's play area and food kiosk's -- September 2011
Ross -- July 2011
Sally Beauty -- Opening September 2011
Sports Authority -- August 2011
Ulta -- October 2011
"As the retailers have come out of the recession and started to open new stores again, there have not been a lot of new projects for them to look at," explained Craig Trottier, vice president of development for Centercal Properties. "So it's put us in a very good situation."
In fact, just about all the retail space is leased or soon will be. For Farmington, a project like this really jolts the economy.
"What magnifies that is this area has been underserved for better quality retail and restaurant environment, Trottier said. "So there's been a pent-up demand in the community for a better shopping, dining experience, which is what we're providing here."
And if location is everything when it comes to real estate, then Station Park has it.
"The geography of this is perfect for Farmington," Harbertson said. "There tucked in on I-15 and 89, Legacy and the commuter rail. It's quick in and out for anyone who wants to shop."
"This spot in Davis County has one of the highest traffic counts in the whole state," Alexander explained. "And to have that influx from both Weber and Salt Lake counties to come right here into Davis, this is such a great location for Station Park."
Last month, a new Harmon's store opened up. "We've seen so many more people coming into Harmons than we ever expected," Christy Alexander, associate city planner for Farmington, said.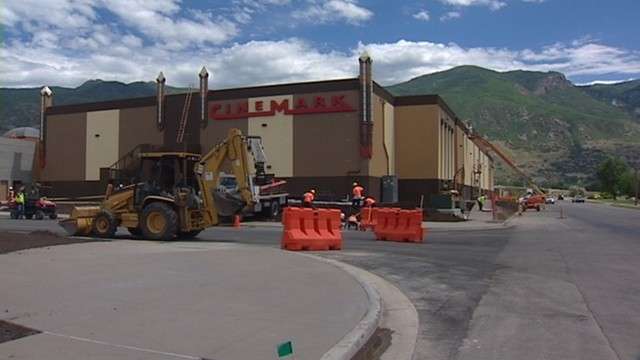 A new 14-screen Cinemark Theatres complex will have a grand opening Friday.
"Between now and fall of next year, they're going to build out the rest of the project and hopefully we'll have probably 100 to 125 retail outlets in this project," Harbertson said.
Ross clothing store is expected to open July 18, followed shortly after by Sports Authority and HomeGoods. But the area is still a work in progress, so you will see construction crews in the area.
Some other planned developments in Utah have had a hard time pushing through the recession. The heart of Salt Lake's Sugar House shopping district is still a vacant corner. Construction of new shops, office buildings and condos have been on hold for four years due to a lack of funding. But approval of a new scaled-back plan should restart the project this fall.
The Holladay and Salt Lake County councils have also voted to allow more time for a development on the site of the former Cottonwood Mall. The $500 million proposal includes apartments, retail and office space.
The project stalled when the former developer filed for bankruptcy protection. A 20-year tax subsidy to the new developer lets it delay the project through 2017.
Email:kmccord@ksl.com
×
Photos
Related Links
Related Stories