Estimated read time: 4-5 minutes
This archived news story is available only for your personal, non-commercial use. Information in the story may be outdated or superseded by additional information. Reading or replaying the story in its archived form does not constitute a republication of the story.
VIDEO: Click Here to watch the funeral in its entiretyCarole Mikita Reporting
President Gordon B. Hinckley paid tribute today to his associate and fellow church leader, James E. Faust. He said, "This is a difficult assignment for me. I've lost a close friend and a wise and able counselor."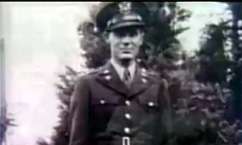 Condolences from throughout the world have arrived at headquarters of The Church of Jesus Christ of Latter-day Saints since President Faust's passing early Friday morning.
President Faust was remembered as a wonderful man who possessed both a brilliant mind and a gentle character. Those who spoke say he left a legacy of love to his family and his faith.
Thousands gathered to mourn the loss of a man they admired. From his family came a "thank you" for all of he messages of love.
He served in the church's highest governing body, the First Presidency, for more than 12 years.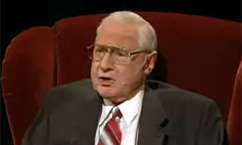 His son, Bishop Marcus Faust, said, "On this day we welcome all of you as members of the Faust family. You are our brothers and sisters. Father gave his life to the Lord many years ago, and it is He who called our father home."
Bishop Faust also said, "Father delighted in reporting on the miraculous growth of the Church in his beloved Brazil, especially to the eight members of our family who have served missions there. It was sometimes hard for the rest of us to sometimes understand the conversation when it shifted into Portuguese (chuckles.)"
James Faust served his community, his state. His associates nicknamed him "Gentleman Jim" for his sensitivity, but a friend and colleague said he could speak with power and authority.
Elder Jeffrey R. Holland, of the Quorum of the Twelve Apostles, said, "I said, playfully, 'President, that isn't a side of you we necessarily see every day. You rose up like the colossus of Rhodes on that issue.' He smiled and said, 'Jeffrey my boy, before this hair was gray, it was red.'"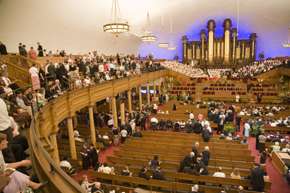 His dearest friends paid tribute.
President Thomas S. Monson, of the First Presidency of The Church of Jesus Christ of Latter-day Saints, said, "Wherever I go in this beautiful world, a part of Jim Faust goes with me. He was a man for all seasons. He was a teacher of truth. He left behind a heritage of honor and a legacy of love."
Pres. Hinckley said, "His incisive mind, his compassion of feeling for those in distress quickly became apparent. In 1995, when I was called as president of the Church, I knew I wanted him for a counselor." He added, "All of us are richer for our association with him. May his memory remain with us, to comfort and guide us, to bless and sustain us."
Many also spoke about the special relationship President Faust had with his wife, Ruth.
Bishop Faust said, "Mother always come first in Dad's life. As kids we learned early that the divide and conquer strategy never worked with our parents. From the way that he spoke with her to the way that he tended to her needs, we always knew our mother was Dad's one true love."
Elder Jeffrey R. Holland said, "Surely his almost storybook romance with you, his beloved Ruth, is among the sweetest in all the annals of the church. Sometimes it was as if they couldn't breathe without each other."
And Pres. Thomas S. Monson said, "Jim and Ruth Faust walked the pathway of mortality, each helped the other. Ruth was at his side as he fulfilled every calling he received. They were partners in life, they will be partners through all eternity."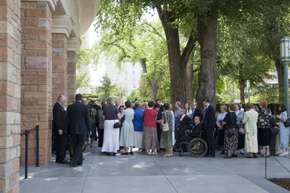 The Mormon Tabernacle Choir closed with the hymn "This Is The Christ", written by President Faust. Following the funeral, family and friends attended a private graveside service at the Holladay Memorial Park.
So many never met President Faust but felt a very personal connection.
BYU student Micah Lillrose said, "Some of the talks that he gave in conference really affected some of the choices I have made in my life. He has just always connected with me very well. And I have respected and loved him very much. I'm here to pay tribute."
Kaysville resident Marlene Nolte said, "I've just always loved his sincere attitude. You can tell when he speaks, he really means it, and he's experienced it all. So, he's really tender and dear to my heart, so we just wanted to be here for this."
The Faust family requests that in lieu of flowers, donations may be made to the Church Missionary Fund or to the Perpetual Education Fund at www.lds.org/Faust. Expressions of sympathy can be e-mailed to condolences@ldschurch.org.
If you missed the live broadcast of the funeral and want to see those services, KBYU channel 11 will rebroadcast the President Faust's funeral this coming Sunday, August 19th at 6:00 p.m.
×
Photos
Related links
Most recent Utah stories