Estimated read time: 2-3 minutes
This archived news story is available only for your personal, non-commercial use. Information in the story may be outdated or superseded by additional information. Reading or replaying the story in its archived form does not constitute a republication of the story.
John Hollenhorst ReportingLast week's mine disaster is not the first. Utah has a long and terrible history of death underground.
But in spite of the huge body count, there's also a tradition of hope.
Central Utah is proud of its mining history. It's an economic engine for the region and a major contributor to our energy supply. But there's also a dark side, going back more than 100 years.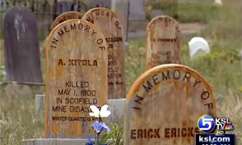 Miners' graves: They're sprinkled over the plateaus and canyons of Central Utah. Some are marked by monuments, the fearful faces of miners frozen in brass in places where many died at once.
Scofield resident Woody Carter says, "I marvel at the lives of these miners."
He helped restore the graves in the Scofield cemetery.
A disastrous explosion ripped through a mine on May 1, 1900. Townspeople heard the blast.
"Everybody thought it was the beginning of a celebration, a May Day celebration," Carter says. "But that quickly, over 200 lives were wiped out."
There are 172 graves from the Castle Gate disaster in 1924. A father and son died together. Their grave carried a touching epitaph: "I little thought when they left home, that they would never return. That they in death so soon would sleep, and leave me all alone."
"You don't have to know somebody to feel their loss," Carter says. "That was true of so many families, that they lost all male members of the family."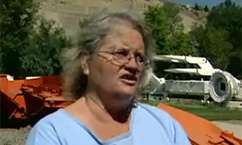 Brenda Deeter's father was trapped once in a mine near Moab in 1963.
"He was down there for 72 hours. Eighteen men died, and seven came out alive," she says.
Her grandfather barely survived the Castle Gate disaster. He walked out of the mine seconds before it exploded. And yet to this day, most of her close male relatives are miners.
"When there's not disasters going on, it's a way of life. I think it just grows on you. You know, you start doing a job, and you like it," she says.
Her father took her into three different coal mines.
"I don't know how they can do it. I really don't, because all you can see is black. People think they know what black is. You don't know what that is until you've been down in a coal mine with the light off," she told us.
Many hundreds of Utahns have died in the mines.
According to Woody Carter, "Every life means something. And it's worth something."
But Deeter says her father's rescue is a lesson for Utahns today.
"Until something is found out, you can't give up. You just continue saying prayers for them. And it's hard," she says.
In this technological age, with unions and government regulation, almost everyone agrees the mines are a lot safer than they used to be. But accidents still happen.
And for many families hope is still a vital commodity.
×
Most recent Utah stories