This archived news story is available only for your personal, non-commercial use. Information in the story may be outdated or superseded by additional information. Reading or replaying the story in its archived form does not constitute a republication of the story.
SALT LAKE CITY — For the second time in one week, a Utah family is mourning the death of a loved one who was killed in Afghanistan.
The U.S. Department of Defense says Lance Cpl. Norberto Mendez Hernandez, 22, of Logan, died Sunday. He was killed during a combat mission in Helmand province, Afghanistan.
---
He was the type of person who would not quit at anything. When told to do something, he would do it.
–Marine Staff Sgt. Denver Sugano
---
A picture of Hernandez was posted late Monday night on Freedom Remembered, a website dedicated to fallen soldiers.
Hernandez was assigned to the 1st Battalion, 5th Marine Regiment, based in Camp Pendleton, Calif. According to the L.A. Times, the regiment was supporting Operation Enduring Freedom in the Sangin district of Afghanistan, considered one of the most dangerous areas of the country.
Carlos Rosales is a close friend of the family. "Where he was at, it was a pretty tough spot. He was saying that he was getting shot at every day," Rosales said.
Hernandez enlisted in the Marine Corps April 26, 2010. This was his first combat deployment.
"He was the type of person who would not quit at anything," said Staff Sgt. Denver Sugano. "When told to do something, he would do it. He was a good individual, a good father, husband and Marine."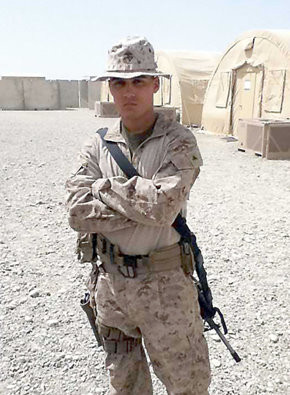 Hernandez had ambition and desire to push himself to the limit, Sugano said. "He didn't go for 100 percent; he went for 200 or more."
In fact, that's part of the reason his cousin, Jesus Mendez, says he and Hernandez had the conversation no one wants to have before Hernandez left for combat.
"(He was) asking me that if anything like this were to happen, I would help his wife out with the kids; raise them," Mendez said.
Mendez said while the family didn't want Hernandez to go, it was what he wanted to do. "Joining the Marines was his dream," Mendez said. "Ever since he was a little kid."
Hernandez's personal service awards now include the Purple Heart and Combat Action Ribbon, along with a Select Marine Corps Reserve Medal, Armed Forces Reserve Medal, Afghanistan Campaign Medal, Sea Service Deployment Ribbon and Nato-ISAF Medal.
He is the second Utahn to die in Afghanistan in the last week. A soldier from Sandy died when a roadside bomb blew up near his vehicle.
Specialist Preston Suter, 22, was a graduate of Alta High School, and a newlywed. He married his wife, Nicole, several months ago, not long before he was deployed to Afghanistan.
A total of 32 Marines have been killed in Helmand province since April 1.
Although fighting has dropped by an estimated 80 percent since August, the Taliban is trying to retake Sangin, Marine officers said. "The insurgency is certainly not over," said Marine Brig. Gen. Lewis Craparotta, commander of Task Force Leatherneck.
In Sangin, he said, Marines continue to face small-arms fire and roadside bombs. The majority of Marine casualties are from the latter.
For those who would like to help Hernandez's family with covering his funeral expenses, a donation account* has been set up at Wells Fargo Bank in the name of Mendez Kids Family Fund.
---
Written with contributions from Shara Park and Nkoyo Iyamba.
---
*ksl.com has not verified the accuracy of the information provided with respect to the account nor does ksl.com assure that the monies deposited to the account will be applied for the benefit of the persons named as beneficiaries. If you are considering a deposit to the account you should consult your own advisors and otherwise proceed at your own risk.
---
×
Photos
Related Stories