This archived news story is available only for your personal, non-commercial use. Information in the story may be outdated or superseded by additional information. Reading or replaying the story in its archived form does not constitute a republication of the story.
WEST JORDAN — Eight Blackhawk helicopters lifted off and then circled a crowd of cheering family and friends Wednesday as 66 soldiers flying and supporting the battle choppers began a one-year deployment to Afghanistan.
Despite the updated plan President Barack Obama is unveiling Wednesday to bring 10,000 troops home from Afghanistan by the end of this year and 30,000 troops withdrawn by the end of 2012, the deployment from here is part of what Utah Adjutant General Brian Tarbet said in January would be a "very busy year" for the Utah National Guard.
The deployment is the first for half of the members of the Alpha Company Plus, Second Battalion, 211th Aviation. For the other half, though, the call to a war zone is their second — or more.
---
You gotta keep it balanced, keep things in the middle. Rather than think about being gone for a year, you think about each day, and each week.
–Pfc. Jeff Widerberg
---
Wednesday's departure is the fourth for Staff Sgt. Bernie Frandsen. His first deployment came in 1990 as part of Operation Desert Storm. The helicopter crew chief said he is quite familiar with desert operations in Iraq and expects the nature of this deployment, with Afghanistan's higher elevation and mountainous terrain, will be significantly different.
Frandsen said he has tried not to speculate about what this deployment will be like. He and the rest of the group will be trained on the particulars over the next month at Fort Hood, Texas, before flying their Blackhawks to Afghanistan, relieving crews that are already there.
His wife, Marie, said she and their children have an advantage over previous deployments because of the additional experience, and because the children are older.
For Spc. Bleu Hawkley and his wife, Mickaela, the "routine" this time will include the birth of their second daughter, who is due in several months. Their 13-month-old daughter, Ella, was also born while Hawkley was deployed, though he was able to be home on leave for her birth.
Sgt. Jacqueline Skougard and husband Tyrel were among the families saying their goodbyes at the Guard base. Leaving on her second deployment, Skougard, also a crew chief, said the group expects to be quite active, possibly flying 10 times as many hours per month as crews did on the previous deployment she was on. Skougard is one of two women on the deployment.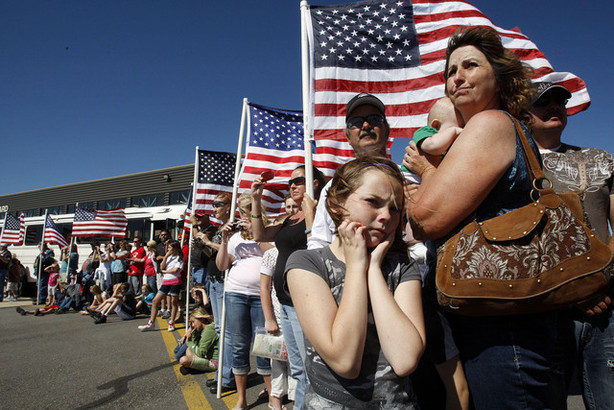 Departing crew members said they expect to be flying all kinds of missions, including moving commanders and soldiers between bases, and escorting unarmed medical evacuation helicopters. Company commander Capt. Noe Vazquez said the time in Texas will be spent validating crews for battle duty. Like others under his command who have seen duty in Iraq, Vazquez said he expects Afghanistan will present an "entirely different environment."
Pfc. Jeff Widerburg, a door gunner, said his advance planning has involved learning how to pace himself.
"I learned you gotta keep it balanced, keep things in the middle. Rather than think about being gone for a year, you think about each day, and each week," he said. Like many, keeping in touch with his wife, Patty, and 7-year-old son, Calloway, will involve conversations over Skype.
Families of the departing crews were able to walk around the Blackhawks before they started up for takeoff. Moments after the eight choppers were out of sight, the rest of the crew members began packing up for commercial flights to Fort Hood where they will rejoin the pilots and crew chiefs.
The average age of the departing soldiers is 26, and 50 are married, according to the battalion. Some 30 are leaving civilian jobs while 25 work full time around the Blackhawks as federal technicians.
Obama has plans to bring 30,000 troops home from Afghanistan by the end of 2012, one-third of them expected to return home by the end of this year.
About 400 members of the First Battalion of the 211th, which flies and supports Apache attack helicopters, are scheduled to deploy this fall.
---
Story written by Steve Fidel with contributions from Jed Boal and Randall Jeppesen.
×
Photos