Estimated read time: 1-2 minutes
This archived news story is available only for your personal, non-commercial use. Information in the story may be outdated or superseded by additional information. Reading or replaying the story in its archived form does not constitute a republication of the story.
Gene Kennedy ReportingPeople in the small community of Huntington just want the men out of that mine.
While crews work through the night to save the six men trapped in the Crandall Canyon mine, the Huntington Fire Department is packed with family members who are comforting each other and praying for a good ending.
Inside the Huntington Senior Center dozens of men, women and children gathered behind the closed doors. They have a friend or loved one trapped in the Crandall Canyon mine.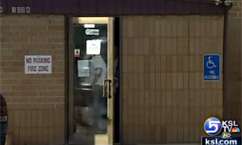 Outside the senior center, Ariana Sanchez, 16, said her father Manuel Sanchez, 42, was among the trapped miners. She said she cried when her mother told her the news, and declined further comment.
Oscar Martinez's cousin is one of the trapped miners. He describes his feelings as sad, as he waits for news.
Keri McKinney, the granddaughter of a former miner, said, "It's kind of weird because this is the smallest town you could ever be in, and something like this happens, and you see all these people come together."
McKinney's grandfather used to work in the Crandall mine.
"He just came home and stared at the TV. I could see that he was upset," McKinney said.
This small town is reliving some hard memories. In 1984, 27 miners died in a fire in the Wilberg mine, which is in the same canyon as the Crandall mine.
Now the community holds out hope this latest incident won't be a repeat of the past.
(The Associated Press contributed to this report)
×
Most recent Utah stories