This archived news story is available only for your personal, non-commercial use. Information in the story may be outdated or superseded by additional information. Reading or replaying the story in its archived form does not constitute a republication of the story.
Alex Cabrero Reporting A space suit that was released into space yesterday apparently isn't working quite as planned.
The old Russian suit had a radio inside of it, so it could transmit messages back to Earth-- messages some 6th graders in Stansbury Park were hoping to hear.
It would've been great to hear. Six different languages were being transmitted from it, but it looks like the cold of space was too much for the batteries. Still, the students did hear something from space-- static.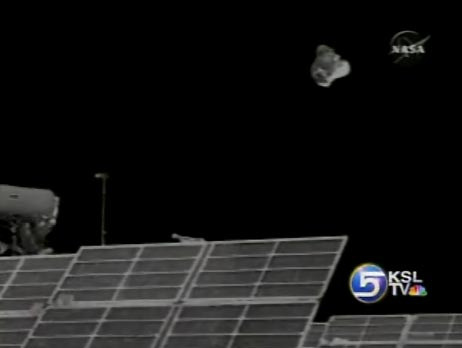 With video games, the internet, and hundreds of channels on satellite television, when was the last time you saw a bunch of children gathering to listen to a radio?
Amanda Stanworth: "We thought it would be fun to come out and try to listen to the suit."
And not just any suit, but a space suit.
Yesterday, the crew aboard the International Space Station tossed the space suit equipped with a radio transmitter into space. It was supposed to transmit messages to earth especially for school children, which is why the students came to Stansbury Elementary school in Stansbury Park at 9:30 in the morning.
Patrick Wiggins, a NASA ambassador to Utah, helped the students listen for the space suit.
Patrick Wiggins: "And apparently they're having problems hearing it. So, I don't know if we'll hear it or not."
They only had a 15-minute window, and that time came and went.
Patrick Wiggins: "If we don't hear it, no big deal. We tried."
Dylan Prescott: "We couldn't hear the suit or anything like that."
DJ McKenna: "There was nothing from the suit."
But, they were able to tune in and listen to the strange beeps from the International Space Station.
DJ McKenna: "Like the internet when you try to call.. something like that."
Not the space suit, but still just as cool.
Patrick Wiggins: "It's something. I think that helps spur interest in the space program."
The space suit will stay in orbit about a week before burning in the atmosphere. By the way, the students who showed up got extra credit.
×