Estimated read time: 5-6 minutes
This archived news story is available only for your personal, non-commercial use. Information in the story may be outdated or superseded by additional information. Reading or replaying the story in its archived form does not constitute a republication of the story.
Sam Penrod ReportingThe race to rescue six men trapped in a Central Utah coal mine continues.
"We will be on our feet until we get these men out one way or the other," said Robert Murray, president of Murray Energy Corporation. "But I've got to tell you, it could be two or three days."
Monday evening, the owner of the Crandall Canyon mine near Huntington said the rescue effort took a step backward. The rescue teams encountered too much rubble at the mine entrance to get to the miners that way. Now they're trying to drill down into the mine from above, but that will take at least another two or three days.
Still, there is hope that if the six men, who range in age from their early 20s to their late 40s, survived the mine collapse early Monday morning, there is still time to rescue them.
Rescue crews scramble around on the outside of the Crandall Canyon coal mine. All day long mining equipment has been brought in to get to the men, who are believed to be trapped 1,500 feet beneath the earth's surface.
Gov. Jon Huntsman said, "No stone left unturned. They're bringing in the professionals and all the equipment they need, hopefully to make this a successful outcome."
"We are exploring every possible alternative to try to get to these men," said Al Davis of the Mine Safety and Health Administration. "We're working as quickly as we can."
The rescue effort hit a major roadblock as teams encountered too much debris inside the mine to safely continue.
"I must tell you, it's a real disappointment that we have been unable to get through this area with our rescue teams," said Murray.
Overnight they will attempt a different path to try and get to the miners.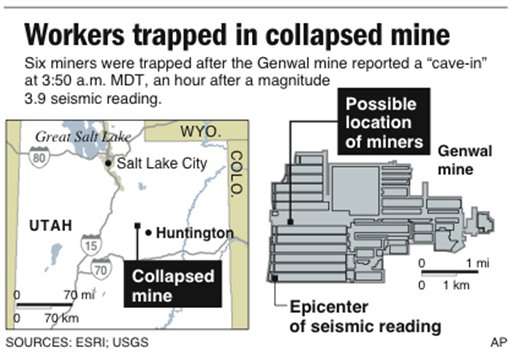 No one knows if the miners are alive. There is no way to communicate with them. But mining officials think they know exactly where they were working when the mine collapsed. And if the miners are still alive, they say it is possible to rescue them.
"They may just be sitting in there with plenty of air and water waiting for us to come get them, which they know we'll do," Murray said.
By Tuesday morning two drill rigs will attempt to drill down 1,500 feet and send air in to the miners. But that drilling is expected to take at least two or three days. They're also bringing in some high-tech seismic equipment to try to listen for any activity from the miners.
The miners became trapped after a collapse in the Crandall Canyon mine that may have been caused by an earthquake. The mine is located west of Huntington in Emery County.
Crews plan to bring in a helicopter in the morning, drop the equipment and start drilling down to where they believe the miners are. They're also actually digging a road with a bulldozer.
The miners have varying experience in mining. All six of the miners are from the area.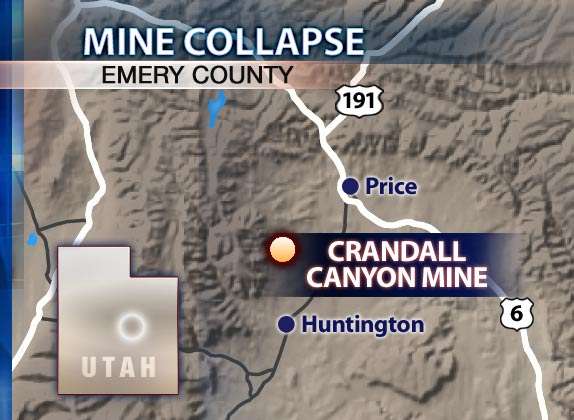 Ten miners were inside the mine when the earthquake occurred and the mine collapsed. It happened between 2:00 and 3:00 Monday morning. The four miners made it out, the other six are unaccounted for. They are believed to be three and a half miles away from the mine's entrance, and at a depth of 1,500 feet.
The real question is: are the miners in an open area? If so, it's believed they would have enough air and water to survive for now; and then just how much of the mine is damaged, and what it will take for rescuers to get to them.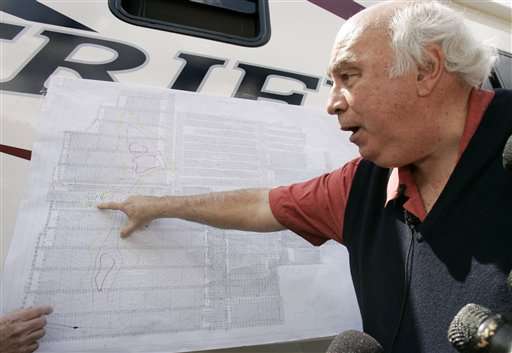 Earlier Monday Murray, said, "Let's just hope it all turns out to be good news. I think the odds are better than 50 percent we'll be pulling six men out of there unharmed. That's my personal opinion. But I could be very wrong."
Gov. Jon Huntsman said, "Our thoughts are with the families, our thoughts and prayers are with the families. They're now in Huntington at an undisclosed location. Our thoughts and prayers are with them." Huntsman has been at the scene Monday afternoon being briefed on the situation, and met with the families of the six miners.
Mine rescue teams brought in maps, heavy mining equipment, even timber to shore up the mine. We're told there are about 200 mine company employees involved in the rescue. The mine is owned by Utah American Energy, a rather small mine. Only 71 people are employed here and usually only about a dozen miners are inside during a shift. The company does own other mines in the area.
The Crandall Canyon mine performs "retreat mining," in which pillars of coal used to support the mine are eventually yanked to grab more coal.
"It's dangerous work and been that way for 30 years," said Leonard Reid, a safety inspector who works for the mine.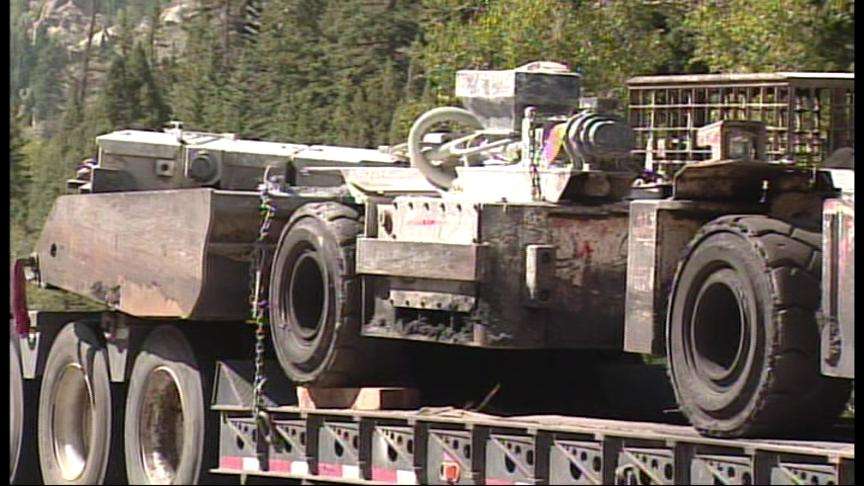 The president of UtahAmerican Energy, a company affiliated with the mine, likened it to a checkerboard -- clearing the red boxes after mining the black.
"It's something that the government approves and signs off on. ... It happens throughout the life of a mine," Bruce Hill said.
Federal mine-safety inspectors, who have issued more than 300 citations against the mine since January 2004, were also on hand to help oversee the search.
The mine is in the Manti-La Sal National Forest, 140 miles south of Salt Lake City, in a sparsely populated area.
Emery County is Utah's No. 2 coal-producing county.
(The Associated Press contributed to this report.)
×
Related links
Most recent Utah stories