Estimated read time: 2-3 minutes
This archived news story is available only for your personal, non-commercial use. Information in the story may be outdated or superseded by additional information. Reading or replaying the story in its archived form does not constitute a republication of the story.
AP Photo/Douglas C. Pizac
Amanda Butterfield Reporting
A large crowd of supporters gathered in Park City Sunday to hear how democratic presidential candidate Barack Obama would change the country if he is elected.
This wasn't the official fundraiser that cost $500 for a seat and was closed to media. Instead, this crowd gathered at a last minute rally, outdoors, that drew hundreds of supporters.
This was Barack Obama's first visit ever to Utah. He admitted he was a little bit overwhelmed by the number of supporters who came out to hear him talk at Utah Olympic Park.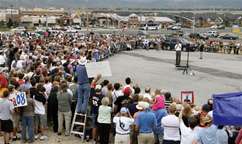 "I thought I was going to have a 15 minute stop with 20 people, and somehow it grew a little bit," he told the crowd.
Kimberly was part of the group that showed up. "I was coming out to hear what he had to say. A democrat coming to Utah, why not?"
Barack commented on Utah's beautiful scenery, how well Utahns have treated him, and then he got down to business. He's convinced that the big turnout at this and other rallies he's held is for one reason.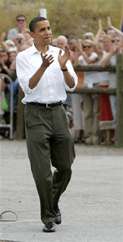 "The reason people are coming out in record numbers is the people are ready for change," he said.
He went straight to hot topics, starting with what he calls the health care crisis in the country.
"Everywhere I go I meet mothers trying to keep insurance for their children," he said.
His solution is universal health care, and investing in preventive measures, like making sure children have regular check-ups to prevent emergency room visits.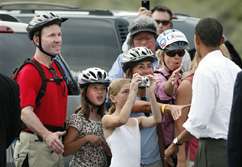 "And then, of course, there's the war that never should have been authorized," he continued. "A war that's cost us half a trillion dollars, and thousands of lives."
Barack says he opposed the war from the beginning, and if he were elected president he would bring our troops home.
The crowd cheered his words.
Brian Jenkins of Park City said, "I think it's great for the community to come out and show its support for a candidate."
And Cara Bertot of Salt Lake City said, "I think Barack offers a breath of fresh air." "I think we need a change in the White House."
This outdoor rally at the Utah Olympic Park was added to Obama's schedule just Saturday night, after supporters lobbied his campaign for it. After the rally he went to the official fundraiser.
So far, Obama has raised about $51,000 in Utah. But the $500-a-plate fundraiser should give that number a nice boost.
Those who didn't attend the official fundraiser but went to the rally instead say they were grateful for the opportunity to hear him.
Ed Patillo said, "I like his ideas."
Before Park City, Obama was raising money in Atlanta. Next he's headed to Nevada, then Iowa.
×
Related links
Most recent Utah stories