Estimated read time: 3-4 minutes
This archived news story is available only for your personal, non-commercial use. Information in the story may be outdated or superseded by additional information. Reading or replaying the story in its archived form does not constitute a republication of the story.
SALT LAKE CITY -- Eric Clausen's bicycle is loaded down with 80 lbs. of food, clothes, and camping equipment. On the side are carefully stenciled words: "This machine kills fascists," in capital letters, and tanned and toned legs pump the pedals. After nearly 10,000 miles on the road - documenting, drawing, exploring the America as affected by the last recession - Clausen has stopped in Utah for a much-needed rest.
Clausen graduated with a Master's from Rutgers University in 2009, but he found himself without many options. The recession was in full swing, and all he had was temp work, despite his degree and his training as an artist.
---
When I started, it was basically [go] south for the winter, north for the summer.
–Eric Clausen
---
Rather than stay in New York City, look for work, and wait for something to happen in a difficult environment for artists, he sold what he could, packed up his bike with almost everything he still had left, and hit the road.
"I've been riding my bicycle across the country for the last nine months," he said.
Since September 2010, Clausen has zig-zagged from New York to Miami, San Diego to Seattle, and everywhere in between.
His purpose is to document the lives of Americans that he encounters during a time where just getting by isn't easy. Clausen does this through his preferred artistic medium - drawing - as well as with photos, blog posts, and a comic book about his "encounters and adventures" with people he meets.
"A lot of what I'm trying to find out is how other people are dealing with the economic climate creatively," he said.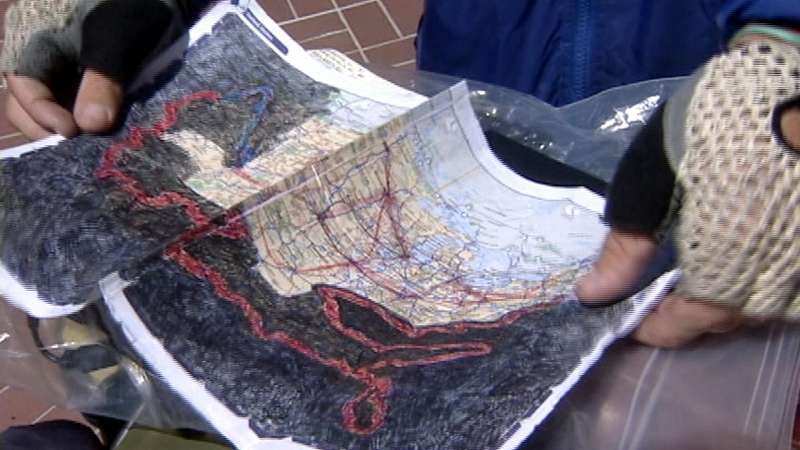 He has seen people who built an improvised home out of old windows, stayed with people held musical performances in their house to pay the rent, and has dumpster-dived with "freegans" to get a much needed meal for nothing.
"I don't require a lot, just food and bike parts, and to pay my cell phone bill."
Having food to eat might not seem like a huge obstacle, but Clausen bikes between 70 and 120 miles daily, which requires he eat roughly 6,000 calories on a given day, with limited space for food.
"I eat pretty much everything and anything," he said.
Other than trying to capture out-of-luck Americans as he saw them, Clausen chose not to plan too much out.
"When I started, it was basically [go] south for the winter, north for the summer."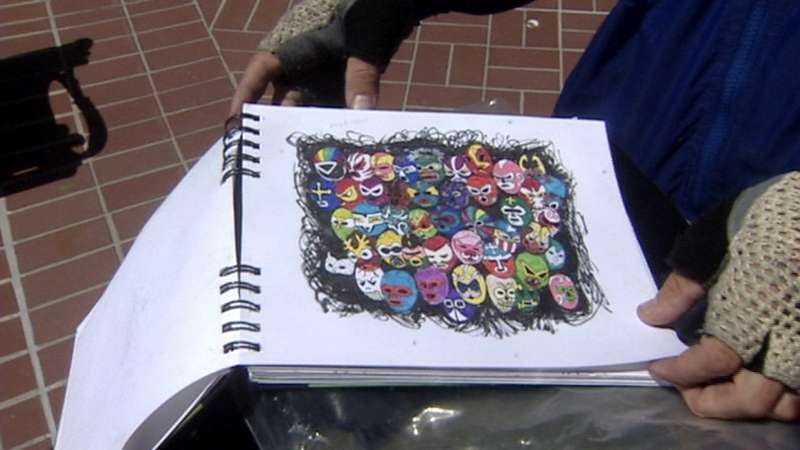 He keeps a list of places he wants to go, but doesn't have a hard-and-fast route.
Clausen sleeps under the stars when he's "in the middle of nowhere," and uses websites to find couches to sleep on in more urban areas. He says he sees someone he knows almost every week, even without planning ahead.
His fans help out as well. If followers of his blog donate $5, he will send them an original drawing of something that has "inspired" him while on the road.
"That's where I've been getting pretty much all my support."
Sometimes they will invite him over as well.
---
I don't require a lot, just food and bike parts, and to pay my cell phone bill.
–Eric Clausen
---
"People will see I'm heading [to their area] and give me a shout out, and I'll show up and eat all their food," he said.
"There's lots of challenges...bad weather, getting lost, losing cell phone reception." His first bike broke in Oregon, and has since moved on to a second, slightly improved, road bike.
But despite the problems, Clausen seems to approach his journey with a sense of humor and good-natured determination.
"Eugene's probably the best place to break a bike because they have a really strong bike community there."
Clausen plans to be on the road for another four to five months, and will end his journey back in New York City.
"It's been quite an adventure so far."
×
Photos
Related links
Related stories
Most recent Utah stories