This archived news story is available only for your personal, non-commercial use. Information in the story may be outdated or superseded by additional information. Reading or replaying the story in its archived form does not constitute a republication of the story.
PROVO — Todd Ellison described his 13-year-old son Nathan Daniel Ellison as adventurous and happy, saying he does "what kids do."
"He was a typical 13-year-old kid," Ellison said. "He had his problems but he was generally a good kid."
---
The hardest thing to watch was them pulling him off the life support system and watch him go ... he didn't even have a chance to experience life.
–Todd Ellison, father
---
#dad_q
Danny, as friends called him, had been rescued from the Provo River over the weekend but died Tuesday morning as a result of his injuries, according to a Primary Children's spokesperson.
Ellison was visibly shaken as he described what took place, from learning of his son's accident Sunday to spending the next three days with him at the hospital.
"The hardest thing to watch was them pulling him off the life support system and watch him go," Ellison said. "That was the hardest thing for a parent to ever witness, especially on a 13-year-old child. He didn't even have a chance to experience life."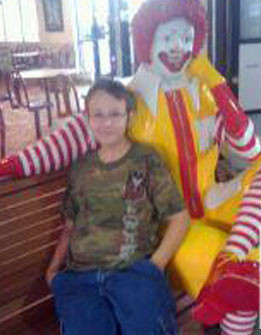 Danny had been floating down the river on an air mattress Saturday when he fell into the water around Riverside Park. He was found breathing, but unconscious, about three-quarters of a mile downriver at a bridge at 325 N. Geneva Road. There, he was retrieved from the water by three Provo police officers and a Provo firefighter. Police estimate Danny was in the river about 10 minutes.
CPR was administered immediately after Danny was pulled from the water. He was transported by ambulance to Utah Valley Regional Hospital but later flown by medical helicopter to Primary Children's Medical Center.
Ellison said his son did not know how to swim, and couldn't imagine what motivated him to attempt to float the river.
"As far as I know he was definitely afraid of the river," Ellison said.
Like many rivers around the state, the Provo River has been running high and fast as spring runoff continues to make its way down from the mountains. Ellison said he took time on Tuesday to see the river himself.
"I went down there today and looked at the river," Ellison said. "I had to bring some closure to myself and I would not wish that on any kid, or anybody. That river is moving way too fast for even a professional to be in."
Ellison said he felt anger at the loss of his son, which has since given way to a sense of numbness. He also took time to express his gratitude for the efforts of rescue personnel.
Currently, funeral arrangements for Danny have not been made.
Meanwhile, emergency responders say if you see someone fall in a river, don't go after them. Call 911 and throw something they may be able to grab onto.
-----
Written by Benjamin Wood with contributions from Jennifer Stagg.
×
Related Stories