Estimated read time: 2-3 minutes
This archived news story is available only for your personal, non-commercial use. Information in the story may be outdated or superseded by additional information. Reading or replaying the story in its archived form does not constitute a republication of the story.
Alex Cabrero ReportingThe Southwest part of Utah got plenty of rain the past few days. Yesterday parts of the Salt Lake Valley in Northern Utah got flooded, but what about Central Utah? One woman is watching the skies with her fingers crossed, hoping for no rain.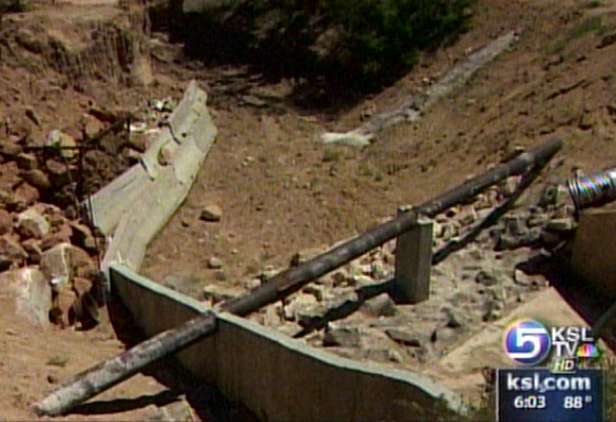 Hanksville residents got so much water from their flood last year, they might still have enough. Fern Hunt knows rain is needed, she just hopes it stays away from her house. Spend just a few minutes here, and you wouldn't need a psychology degree to figure out she's worried.
She's been living in Hanksville a long time. They built their house 35 years ago. She even runs a motel there. For all the visitors heading to Lake Powell or Capitol Reef who've stayed at her place, it's the one visitor from last Fall she's always thinking about.
"My biggest fear is if we have another large flood, I will lose my house," she says.
Last October, Hunt thought she was going to lose it all. A rainstorm hit that would've made Noah nervous.
Hanksville Mayor Stan Alvey says, "I've never forgot it. I've been here 65 years, and I've never seen anything like it."
The town's dam broke from all the water, and the Fremont river was so strong it cut underneath Highway 24, sending chunks of road into the water. That same water also started cutting into the land Hunt's house sits on, and if it sank a highway, well, now you know why she's nervous.
Concrete barriers were put in the channel to try and control future water, but if water comes like it has in Southern Utah and in the Salt Lake Valley the past few days, Hunt doesn't think it's enough, and she can't do more on her own.
"On a fixed income and Social Security, I can't afford to do it," Hunt says.
Thunderstorms are forecast for Hanksville. Don't be surprised if you find Hunt with buckets ready to start bailing out, just in case.
×
Most recent Utah stories