Estimated read time: 2-3 minutes
This archived news story is available only for your personal, non-commercial use. Information in the story may be outdated or superseded by additional information. Reading or replaying the story in its archived form does not constitute a republication of the story.
Sarah Dallof ReportingA family and a community are grieving the loss of a promising high school student who drowned Saturday in Bear Lake.
Seth Fraughton was on a trip with friends and was swimming in the lake when he got into trouble and slipped beneath the surface. Search and rescue teams were able to recover his body a few hours later. But the pain is just beginning for his family.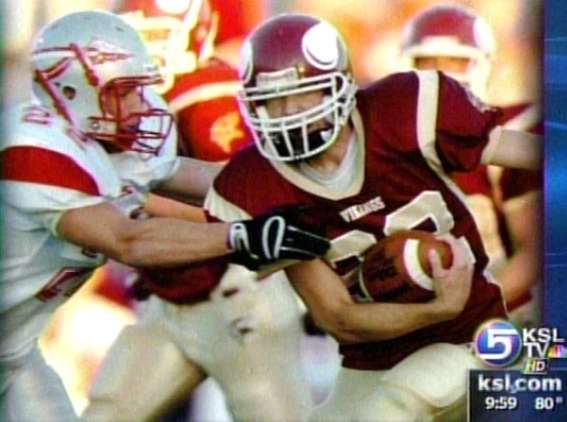 Seventeen-year-old Seth Fraughton would have been a senior at Viewmont High School this fall. Classmates remember him as the person everyone wanted to be, or at least be around. He got good grades and was very athletic. He ran track and managed to place at state. He was also a very big part of Viewmont High's football team: He was a captain and a clear-cut leader.
Viewmont High Principal Scott Tennis says, "Outstanding family, outstanding student, outstanding athlete. Just a great, great kid and a big loss to the school."
Alan Jimenez says, "A lot of people looked up to him. He was like an idol. And I looked up, personally, I thought he was one of the nicest kids I've ever met."
Seth was swimming with friends at Cisco Beach Saturday morning. When he tried to swim out to a boat, he slipped under the surface and never came back up. Despite everyone's best efforts, they were not able to get him out of the water in time.
School isn't back in session yet, but the football season is. The team was just about to start their two-a-day practices. The school's principal will be meeting with coaches and crisis counselors to decide how best to help the students and coaches deal with their grieving.
No funeral plans have been set.
Some of Seth's friends posted their thoughts on our Web site this evening.
Sabe said, "He is such an amazing person. A great church leader and a great helper to all those who needed help. He is a great team player. A great student and athletic guy at Viewmont High School! He will be missed by everyone."
Truebluecougar said, "The family lives a few houses down from me. It seems so surreal - these things are always in someone else's community, you never expect them to come so close to home."
And another posts, "I have met the boy and know some of his family. This is a sad deal and my thoughts and prayers go to the family. "
×
Most recent Utah stories