Estimated read time: 5-6 minutes
This archived news story is available only for your personal, non-commercial use. Information in the story may be outdated or superseded by additional information. Reading or replaying the story in its archived form does not constitute a republication of the story.
SALT LAKE CITY — President Joseph F. Smith, the sixth president of The Church of Jesus Christ of Latter-day Saints, told Walt Macey he would refuse to shop in his store if it continued to be open on Sunday.
Macey and his business partner had three stores in Salt Lake City's Rose Park area. They disagreed when it came to being open on Sunday. Macey's business partner agreed to split the responsibility of what was then known as "Save A Nickel." The larger store went to Macey, while his partner took the two smaller stores, thinking that Macey would struggle financially in honoring his commitment to be closed on Sunday and that he would be able to get Macey's store back for next to nothing.
Macey's store, which was open six days a week, flourished, while the other two stores, which were open seven days a week, eventually went out of business. Macey renamed his store "Macey's Rose Park Economy Store." He later dropped part of the name to become "Macey's," which is now 11 stores strong.
---
We all believe that a very large portion of the success for the Macey's stores over 65 years of operation is the firm commitment to Sunday closing.
–Darin Peirce, Macey's
---
"We all believe that a very large portion of the success for the Macey's stores over 65 years of operation is the firm commitment to Sunday closing," said Darin Peirce, vice president of Macey's. "We continually receive an overwhelming number of comments from customers saying they shop our stores exclusively due to our being closed on Sundays."
Many Utah business owners choose to close their doors on Sundays even when their sister stores are open out-of-state. For some, it's a simple matter of demographics equaling good business sense. For others, it's a matter of religious convictions. For others, it is both.
Sundays have traditionally been a slower day for business in Utah. Two years after gaining statehood in 1898, the state legislature passed a law closing most businesses on Sunday. Sunday closing laws were also called blue laws.
In 1943, the Utah law succumbed to the same fate as most blue laws when the Utah Supreme Court overruled the legislation as being too ambiguous regarding which businesses could open and which could not. While several attempts have been made since to mandate Sunday business closings since, nothing has attracted a governor's signature or held up in court.
The Purple TurtleBut laws and legislation had little effect on Lloyd Ash when he started the Purple Turtle, which has been a fixture on State Street in Pleasant Grove, Utah, for years. Locals use it as a landmark for giving directions to points north. It also is closed on Sundays against advice from experienced fast-food owners and consultants.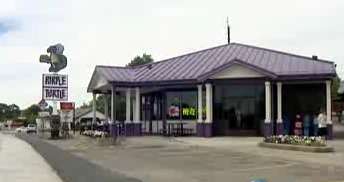 "There was no way a little family owned place like this could stay open and be closed on Sunday," said Steve Cobbley, co-owner of the local burger joint. Consultants told Ash that if customers couldn't get what they wanted on Sunday, they would "simply go somewhere else – for good."
That wasn't the case, and the Purple Turtle has been in business since 1968.
Cobbley is as committed to Sunday closure as founder Ash, saying that remaining closed just makes sense. As a manager he has noticed that giving his equipment a day of rest has prolonged the life of his equipment that his machinery "has suffered significantly less damage than industry standards."
Minimal wear and tear extends to the employees he hires as well.
"We feel we get a better quality of employee by being closed on Sunday," he said. "They choose to work here because they won't have to work then. I work them hard and put them away wet. These are really good kids."
R.C. WilleyR.C. Willey Home Furnishings has likewise never been open on Sunday.
"We've never suffered, and we have always done well," said Bill Child, who retired from the company as CEO in 2003.

For Child, part of the reasoning to remain closed was tradition. When he unexpectedly inherited R.C. Willey in 1954, few businesses stores were open on Sunday.
Another part of the decision to open six days a week was a meeting with LDS Church President Spencer W. Kimball. According Jeff Benedict's book "How to Build a Business Warrant Buffett Would Buy: The R.C. Willey Story," President Kimball suggested that Child would be blessed if he continued the policy of remaining closed on Sundays.
After years of success in Utah, Child decided to pursue an Idaho market. His partners wanted the new stores to be open on Sunday. Child said no, and used his own money to expand. When the Idaho store proved profitable, and two more stores were opened in Nevada. Both are closed on Sundays and both are profitable.
"I appreciate Walt's spiritual commitment to the principal of not doing business on the Sabbath," said Peirce. "It has afforded countless (of his employees) the opportunity to free themselves of worry about the business so they may worship as they see fit or spend time with their families or anything else they may choose to do without the work and worry about their jobs on Sunday."
Cheney writes at dcheneystudio@blogspot.com
×
Related links
Most recent Utah stories