This archived news story is available only for your personal, non-commercial use. Information in the story may be outdated or superseded by additional information. Reading or replaying the story in its archived form does not constitute a republication of the story.
SALT LAKE CITY — Two former state employees pleaded guilty Monday in connection with the controversial case known as "the List," where the personal information of 1,300 supposed illegal immigrants was released to law enforcement agencies and the public.
Both women received probation for their crimes — sentences some Hispanic community leaders believe are too lenient.
---
This is not equal justice. We're very disappointed.
–Tony Yapias
---
Teresa Bassett, 59, entered an Alford guilty plea for two counts of computer crimes, a third-degree felony. Such a plea allows her to maintain her innocence, but she agrees the state has enough evidence to convict her for the extraction and distribution of confidential electronic data.
"I am innocent, but I am pleading guilty pursuant to Alford vs. North Carolina," Bassett told the judge. Her lawyer later clarified that Bassett believes the list was created by someone else but that all the evidence pointed to her.
She was sentenced to serve 250 hours of community service and has plans to fulfill that by teaching emergency preparedness workshops and seminars to organizational and church groups in Cache County, where she lives with her mother.
"I am kind of a work horse once I get going on a project," Bassett, also known as London Grace Wellington, told the judge.
Third District Judge Robert K. Hilder said the plea "is still a conviction," adding that any violation of Bassett's 36-month probation would negate his suspension of two concurrent zero-to-five-year prison terms and re- instate more than $5,000 in fines.
Sentencing
Leah Carson
1 year probation
$490 fine
Teresa Bassett
3 year probation
250 hours of community service
In taking the plea bargain, assistant attorney general Scott Reed said Bassett avoided being charged with up to 1,300 felony charges. He said evidentiary challenges would have made those convictions more difficult.
Yapias said Bassett "basically got a slap on the wrist" for what she did. He believes it would be a "different situation" if a list of the names, Social Security numbers and addresses of white people had been distributed.
"This is not equal justice. We're very disappointed," he said. Yapias confronted Bassett on her way out of the courtroom Monday, asking for an explanation. Bassett chuckled and rolled her eyes at the situation, but never answered Yapias' unrelenting questions.
"How do you get away with this without spending even a day in jail?" Yapias asked her. "You terrorized a lot of people, you know that? Did you know you made a lot of people upset?"
---
It's pretty egregious conduct. What Leah Carson did was wrong, but the ripple effect, the political effect and the ideological impact may be much more profound than the criminal conduct in this case.
–Scott Reed
---
Leah Carson, 32, of West Jordan, pleaded guilty to a class C misdemeanor charge of providing false statements regarding unemployment compensation to Bassett. The two were co-workers at the time the list was compiled and had become friends, but Reed said that relationship has likely expired.
Carson pleaded guilty in Midvale Justice Court Monday to the charge as part of a pre-arranged plea deal, and said she was sorry for her "mistake."
"I apologize for my actions," Carson tearfully told the judge. "I know they were really stupid, and I made a mistake. I just want to get past this."
She was sentenced to one year of probation and ordered to pay a $440 fine. The judge sentenced Carson to serve 90 days in jail, but the jail time was also suspended.
In March 2010, Carson was a temporary Department of Workforce Services worker in the imaging department, which scans documents such as utility bills and other paperwork used to verify clients' addresses and income levels. Prosecutors say she violated policies by providing personal information from files to Bassett, a 17-year veteran office specialist with the agency at the time.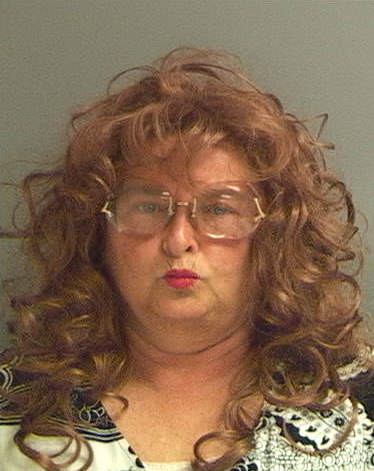 "They worked in the same office and they had access to information that is defined as confidential and within the work environment, that information gets shared among them on a daily basis," Reed said. "What happened here was information that she shared with a co-worker, in turn, got out of the office, which is wrong."
Reed said he believes Carson didn't know what the information would be used for until after she had already released a sizable portion of it, and had therefore participated in the crime. The information was provided to Bassett months before it was delivered to various law enforcement agencies and media outlets in July, under the name "Concerned Citizens of the United States."
"It's pretty egregious conduct," Reed said. "What Leah Carson did was wrong, but the ripple effect, the political effect and the ideological impact may be much more profound than the criminal conduct in this case."
Reed repeated to Hilder that the ripple effect in the community was larger than the crime, but that prosecutors were happy with the deal in both cases. He said Monday that no official action was ever taken involving the list, which called for the deportation of those it contained.
The infamous list caused a huge stir in the community when it came to light in July. Carson and Bassett lost their jobs as a result of the accusations and the investigations that followed.
A trio of Latino community leaders lashed out against the plea deals during a media conference held at Centro Civico Mexicano, saying the punishment didn't fit a crime that spread terror among undocumented Utahns.
"For weeks, people were sure there would be a thump on the door and somebody coming to arrest them and take them away," Utah La Raza chairman Archie Archuleta said.
The impact of the list being compiled was hardest on the U.S.-born children of the men and women whose names appeared on the list, Archuleta said, describing their fears that they would be left alone.
Yapias said many parents are no longer applying for the medical and other government benefits their children are entitled to because they don't want to risk appearing on another list. Even though no one was deported as a result of the list, he said the families are doing without the benefits.
"Like everything else, at the end of the day, we're shortchanging the kids," Yapias said.
Frank Cordova, Centro Civico president, said the damage done by the list includes perpetuating the perception many have that if someone's skin in brown, they are in the country illegally. They're "all treated as if they are undocumented," he said.
Contributing: Lisa Riley Roche
Email:wleonard@ksl.com
×
Photos
Related Stories