This archived news story is available only for your personal, non-commercial use. Information in the story may be outdated or superseded by additional information. Reading or replaying the story in its archived form does not constitute a republication of the story.
ROY — A young girl was found wandering next to a road here early Thursday.
Now, police are trying to figure out why the people supposedly watching the toddler had no idea she was missing until police knocked on their door nearly six hours later.
---
Until they were told she wasn't there, they didn't know she wasn't there. They were just clueless as to what was going on.
–Chief Greg Whinham said, Roy PD
---
#whinham_q
About 6:45 a.m., a motorist spotted a young girl, about 2 or 3 years old, walking alone next to the road near 1650 West and 4500 South, said Roy Police Chief Greg Whinham.
Police canvassed the area and sent out reverse 911 calls to surrounding residents looking for the parents or guardians, but with no luck.
After five hours of searching with no luck, and no one from the community reporting a missing child, Whinham turned to the media at 12 noon to get the girl's picture out to the public.
"After we got some information out, we received a tip from a family member who thought she might know the location of who might be caring for her," he said.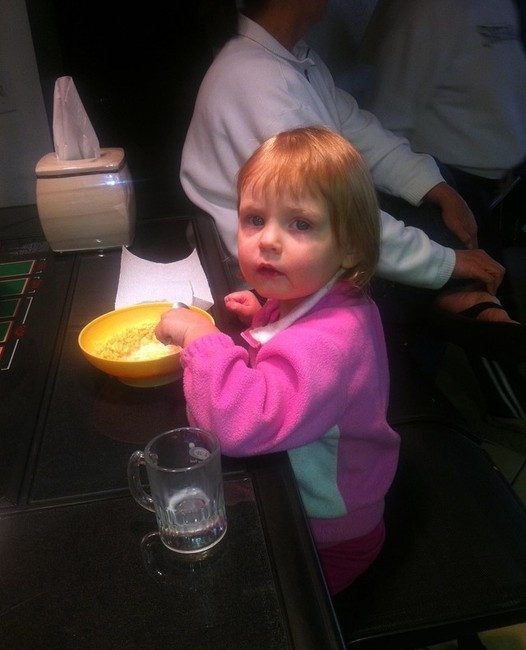 It turned out the family member's tip was correct. About 12:45 p.m. police went to a house about 50 yards away from where the girl was first spotted walking along the road. Four adults were inside the house.
"Until they were told she wasn't there, they didn't know she wasn't there," Whinham said. "They were just clueless as to what was going on."
The young girl was the daughter of a woman who had been staying at the house the past few days, he said. The woman's sister also lives in the house. The girl's mother reportedly left the four other adults in the house in charge of her daughter Wednesday evening after she had to leave, Whinham said.
Why the adults didn't notice the child was missing, or why she hadn't been fed or cared for in six hours, was being investigated Thursday afternoon.
"We're looking at it from every aspect that we can to see if constitutes child endangerment or neglect (charges)," Whinham said.
The girl's mother was also located and was working Thursday with the Division of Child and Family Services to be reunited with her daughter, he said.
Whinham said the people living in the house had not been there too long and there was no prior history of incidents at that address involving those adults.
The young girl, who doesn't have many verbal skills, has short blond hair and was wearing a pink, long sleeve coat. She was dressed as if she was going to be outside, and not as if she had just gotten out of bed when she was found, Whinham said.
Email:preavy@ksl.com
---
×