Estimated read time: 4-5 minutes
This archived news story is available only for your personal, non-commercial use. Information in the story may be outdated or superseded by additional information. Reading or replaying the story in its archived form does not constitute a republication of the story.
Courtney Orton and Alex Cabrero ReportingA muddy mess for people in Southern Utah. Flood waters washed through homes and knocked out power. Residents across Washington County are digging out after flash floods left behind a big mess.
Major flash flooding threatened the community in Virgin. Lost Creek, which flows into the Virgin River, crested its banks and really made its own path from there.
Lost Creek was virtually unstoppable last night. It plowed through a road and into a family subdivision, tearing through every home it came to.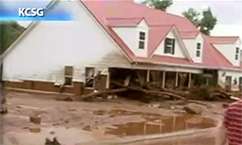 Lt. Jake Adams of the Washington County Sheriff's Office said, "This flash flood came through and it washed out many homes along the Kolob Canyon Road, the Staples subdivision. Five or six homes up there were pretty severely damaged. We had a few people that were trapped in there, but we were able to use our search and rescue to get everybody out safely. So really what we're looking at now is the loss of some livestock and some pretty severe property damage."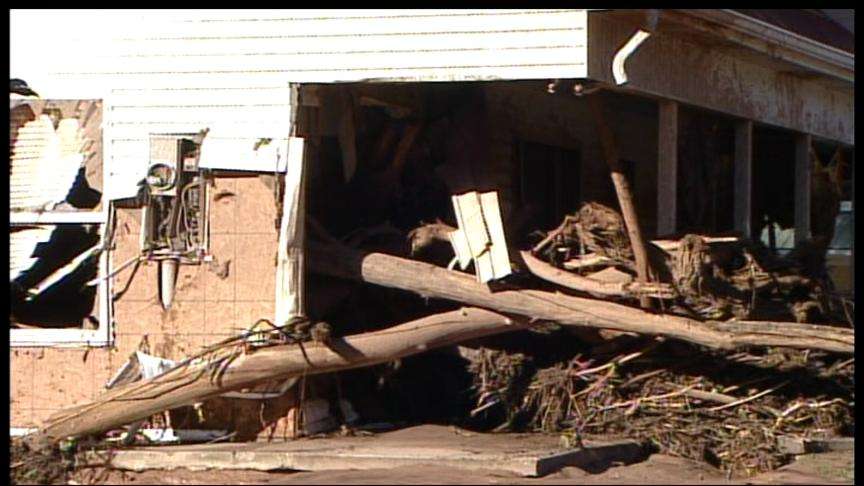 A swift-water rescue team rescued about 30 people from near flooding creeks. Some had climbed to the tops of roofs to avoid the rising flood waters.
Mike Staples, a resident of Virgin, said, "Fortunately, we didn't lose any lives. That was the main thing."
"Saw water coming on this side of the road. It came so quick. It was unbelievable to see so much water and debris coming down the road so fast," said resident Angl Guzman.
Less than 24 hours after the devastation, he stands perplexed, contemplating nature's incredible force. "You can tell, it's just devastation," he says.
"It was all water, rolling water," said resident Luann Staples. "This was a river out here. My husband's truck is gone. It's a couple miles down the stream, and we've had other trucks washed behind houses."
Jeff Myers, another family member whose in-laws live down the street, crawls through a window to see what's been lost. He says, "Recover: years. Cleanup: months. So not sure what they're going to do, though. Cut their losses, move somewhere else or just -- you know, this is their home and has been for years. So it's up to them. In either case we'll be here to help them out."
While the family cuts their losses, they're confident they can rebuild. Luann says, "We all have lived here for several years. It's been wonderful, and it will be again."
The family has a long road ahead of them. Crews are currently trying to rebuild power lines and water in this family's subdivision.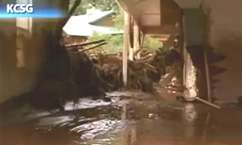 While residents of Virgin continue to clean up the devastation caused by flash floods, resident in Gunlock are literally digging themselves out of a mess. We're told about 100 volunteers are helping clean up this evening.
The raging floodwaters managed to hit both Gunlock and Virgin very hard. In Gunlock, clean-up crews are shoveling out a home completely surrounded by water.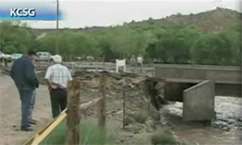 It's a very different look, though, on the other side of the street. The Gunlock rodeo grounds are completely buried in debris.
The water levels of both the Santa Clara and Virgin Rivers have gone down since yesterday, but with clouds looming overhead, some wonder if rain will hit again.
Mike Staples said, "Can't hurt anything if it gets bad again. I'd just as soon have it happen now, and get it over with. But it can't cause any more damage than what it already has. We have no power, we have no water, the septic systems are full. There's really no more damage that could be done."
Jerry Kennel said, "We could be in the middle of cleanup and it'll happen all over again. It's just part of living out in Mother Nature, I guess."
State officials have been touring the area by helicopter all day. At least five homes here suffered water damage.
Yesterday's flash flooding brought back memories of the floods of 2005, when the south bridge was washed out.
Interestingly enough, yesterday the Virgin River was flowing at 10,000 cubic feet per second. That's what the Santa Clara River was flowing at during the floods of '05.
In 2005, a rock wall was built on the Santa Clara river. Some residents say that rock wall really saved them this time around.
Gunlock rancher Ed Bowler said, "Had we not had the rock wall that [was] put in in 2005, we would have had much more damage. We would have had a catastrophic problem with loss of homes and all of that type of thing. So we're really lucky to have the rock wall that was there. The problem is this flood event was much larger than they had anticipated when they did the design."
(The Associated Press and KCSG contributed to this report)
×
Related links
Most recent Utah stories