Estimated read time: 2-3 minutes
This archived news story is available only for your personal, non-commercial use. Information in the story may be outdated or superseded by additional information. Reading or replaying the story in its archived form does not constitute a republication of the story.
Amanda Butterfield ReportingIf you lose your dog, or cat, who do you call? There's not much you can do except put out flyers, and check the local shelters. Now there's someone who can help.
Nicole Maybrey is a pioneer pet detective, and her co-workers are experts in sniffing out lost pets. As she gets ready for work, she gives her co-workers a hand, too. They include a terrier mix named Bree and a German short-hair pointer named Spencer.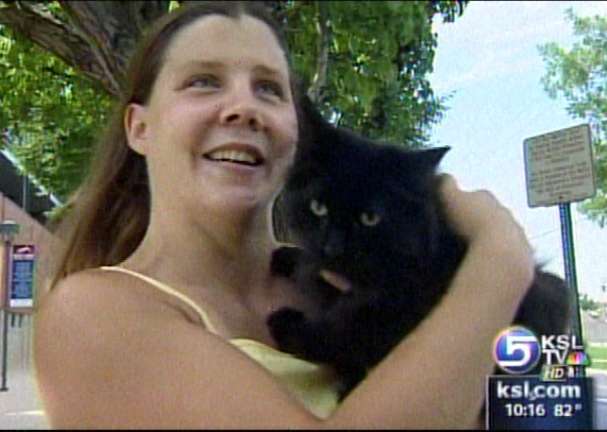 The three of them make up Lost Pet Investigations, Inc. There aren't many out there who do what they do. Maybrey says, "I work Utah, Nevada, Northern California, Washington, Oregon, Colorado and Canada."
She started this two years ago, after her cat ran away. "I understand the heartbreak of not knowing, and life was not the same for nine months," she says. She eventually found her cat, and since quit her desk job and now hits the road with her team. Together they help relieve heartbroken pet owners.
Jessica Mordecia's cat ran away and was lost in Salt Lake for nearly a month before Bree and Spencer were on the case. She says she was "really, really upset."
Maybrey says, "It's very difficult for a lot of people when their pet goes missing, they don't know where to turn, what help to get."
Maybrey's success rate is about 70 percent for a two-day search, costing around $1,000. "The search fee is $650,00, then the travel expenses," Maybrey explains.
Meybrey and her dogs tracked Bean down three miles from where he got loose.
Mordecai says, "Oh yea, it was worth it. We never would have come over here if it wasn't for Nicole."
The soon to be newest member of the team is Ranger. He's from a breeder in Salt Lake, and adds one more to the pack of pet detectives.
So, just like you would have your children finger-printed and photos taken in case one day they disappeared, if you have a pet, do this: Get a cotton ball or pad and rub its belly and chin with it. That cotton will absorb your pet's scent, then just put it in a zip lock baggy and freeze it, it'll last for years. That way you've got a scent pad ready to give a pet detective if your pet runs away.
×
Related links
Most recent Utah stories