This archived news story is available only for your personal, non-commercial use. Information in the story may be outdated or superseded by additional information. Reading or replaying the story in its archived form does not constitute a republication of the story.
SUGARHOUSE -- The man who headed up last year's fundraising effort to save the annual fireworks show at Sugar House Park says the event is being canceled this year due to lack of funds.
Every year for the past 23 years, more than 35,000 people fill the park -- perhaps many more. When the show was in danger of being canceled due to lack of funds, local businessman Scott Workman stepped in.
He led the charge to save the fireworks show in 2010. Community support poured in -- local residents and merchants joined the grassroots effort with large and small donations. They raised more than $75,000, providing enough money for the show to go on -- at least for another year.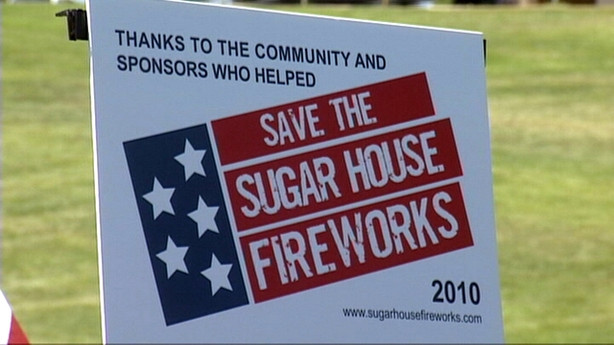 The work began again this year to keep the spectacle funded. Last week, Workman said he needed more corporate sponsors. Now, he says that celebration won't happen.
So far, the group has only raised $25,000. Workman says he can't even spend money to order more of the "I helped save the Sugar House Fireworks 2011" pins.
"Despite our best efforts, the event hasn't been embraced like last year," Workman said in the release. "Unfortunately, it is now too late to save the show; the show won't go on."
Workman blames the economy.
Workman says he has reaction from many disappointed residents on the group's Facebook page.
But at least one member of the Sugar House Merchants Association says her group that helped so much last year wasn't contacted.
"It's kind of a shock today because I hadn't heard anything at all from Scott and I was thinking that everything was going fine," said Debie Williamson, who serves on the executive board of the association. "The floor's kind of come out from under me."
Residents who love Sugar House Park and it's 4th of July tradition are not happy.
Sugar House resident Amanda said, "I think it'd be disappointing for a lot of people. The whole community comes out, so it'd be sad."
But Williamson isn't ready to give up. She said she hopes Workman will come to the Merchants Association meeting on Wed. She believes they can still raise the money.
Email: cmikita@ksl.com
×
Related Links
Related Stories