Estimated read time: 2-3 minutes
This archived news story is available only for your personal, non-commercial use. Information in the story may be outdated or superseded by additional information. Reading or replaying the story in its archived form does not constitute a republication of the story.
John Daley ReportingIf you haven't driven around downtown Salt Lake lately, you're in for a stop-and-go treat. The construction season is in full swing, and a few streets especially are bearing the brunt of it. Construction has clogged numerous downtown roads, but much of the work should be done in the coming weeks.
Most folks would say having new roads, or a new light rail line or new landscaping are great. The rub comes in the getting there.
Steve Beard says, "This particular area, it seems like they've been working on it forever." Beard works downtown near the new TRAX extension to the new intermodal hub. He says, "Just in the last four years it seems there's a lot more construction and a lot more congestion. And maybe there's a lot more people, too. Definitely harder to get around."
Traffic downtown has a few choke points, such as the landscaping project on Broadway between Main and 300 West, not to mention routine projects like a repaving of 500 South.
Some are irritated. Salt Lake resident Brianna Harris says, "I get the motivation and want to jaywalk and stuff because of the lights and the people on the street and cars. And I have a bicycle, and it's hard to cross intersections because the cars don't see you."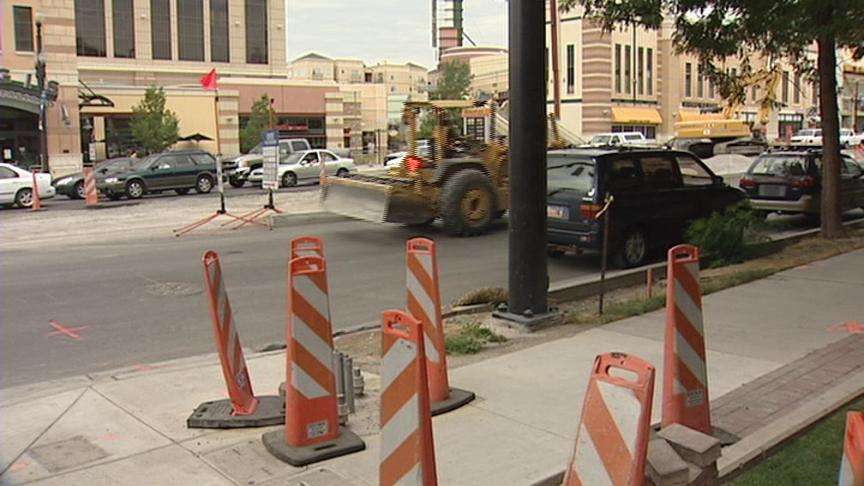 Others are patient. Brett Derricott says, "I think it'll be a good thing in the end. It's the price you pay for economic development."
Others are a bit frustrated. Beard said, "In fact, if you have to make a left turn, you might as well make three right turns before you can try to make your left turn. So yeah, it's been pretty difficult to get around."
400 West will be mostly restored and finished in two weeks. The work on 200 South will be done in about six weeks. Work on Broadway will be done by the end of August.
As they say, this will be a great city when it's done.
- - - - - -
×
Most recent Utah stories