Estimated read time: 5-6 minutes
This archived news story is available only for your personal, non-commercial use. Information in the story may be outdated or superseded by additional information. Reading or replaying the story in its archived form does not constitute a republication of the story.
SALT LAKE CITY — The Utah Attorney General's Office formally announced Thursday it will appeal the ruling that determined a Logan woman was factually innocent, releasing her from prison after 17 years in custody.
Utah Attorney General Mark Shurtleff explained at a news conference — in which he was backed by 26 of the state's 29 county attorneys — that he was caught up in the emotion of the moment May 9 when Brown was released. His office had announced that day that it would appeal the ruling, but hours later Shurtleff announced over his Twitter account that his office would not appeal.
"It was very emotional, highly charged," he said Thursday. "Many felt in their hearts that enough was enough and I was one of those."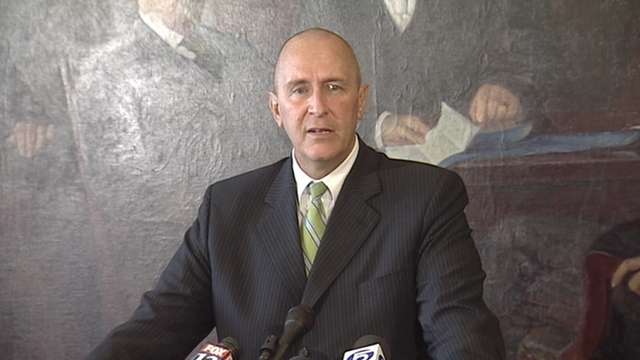 He said he had not closely studied the facts of the case when he made the announcement retracting the planned appeal. After reviewing the case and speaking with concerned county attorneys, he decided an appeal was necessary.
"When it comes to proving guilt or innocence, you have to lay emotion aside. ... It's based on fact and law. That's it," Shurtleff said.
In 1995, Brown was convicted of murder and sentenced to life in prison for shooting her employer and friend, Lael Brown, 75. The man was found dead in his home with three gunshot wounds to his head.
Prosecutors argue that police found no sign of forced entry, that whoever shot Lael Brown would have known where the man kept his gun and would have had motive to take a single bank statement that was determined to be missing. That bank statement also happened to have canceled checks that Debra Brown had forged and signed, assistant attorney general Laura Dupaix said.
---
When it comes to proving guilt or innocence, you have to lay emotion aside. It's based on fact and law. That's it.
–- Mark Shurtleff, Attorney General of Utah
---
But Brown was deemed factually innocent by 2nd District Judge Michael DiReda after an extensive hearing on evidence in the case. DiReda said in his ruling he was not initially convinced of the woman's innocence. But he reviewed the original trial record and noticed an entry about a man, Del Hall, who had been listed as a potential witness, but hadn't been questioned at trial.
He called attorneys back in and invited them to present more evidence, including about the testimony of Hall — who testified that he saw Lael Brown at a Logan coffee shop hours after prosecutors argued he had been killed by Debra Brown.
Don Linton, a chief deputy attorney in the Cache County Attorney's Office, was one of two prosecutors who handled the murder trial. He said Hall was on the defense witness list, but defense attorneys never used him. When inquired as to why, he was told "(Hall) was a bad witness."
"Del Hall was a weak witness," Linton reiterated.
This testimony, though, was enough to convince DiReda of Brown's innocence.
Related:
"The significance of the evidence provided by Hall cannot be overstated," DiReda wrote. "The court finds by clear and convincing evidence that Lael was alive Saturday afternoon ... and, therefore, that (Debra Brown) could not have killed Lael Saturday morning."
DiReda said that his determination of innocence was not based solely on the strength of newly discovered evidence, but the totality of the case. He also pointed out that Brown's attorneys, including those with the Rocky Mountain Innocence Project who took on Brown's case in 2002, were able to disprove many of the state's claims.
That same team of attorneys and leaders within the Rocky Mountain Innocence Center were frustrated and angry at the attorney general's "flip-flop" which they said "smells of sour grapes."
Prosecutors who tried the case in 1995 and who handled the evidence hearing are adamant that Hall's testimony not only does not qualify as "newly discovered evidence," as the factual innocence statute requires, but is also not stronger than the evidence that points to Debra Brown as the killer.
Debra Brown's attorney, Alan Sullivan, contended that despite what Linton said, one of the defense attorneys who handled Brown's 1995 trial said he had never seen the statements Hall made to police, even though trial records had Hall listed as a potential defense witness.
Still, the attorney general thought this was a sticking point that brings the ruling into question. "Judge DiReda was clearly wrong in his determination," Shurtleff said.
Sullivan said he disagrees and is confident the ruling will hold up under appeal. "Judge DiReda got it right," he countered.
Shurtleff said his office will not seek for Brown's return to prison, but noted that his office will not make that decision.
---
It is not unusual for us to witness law enforcement officials not having enough courage to do the right thing and working zealously to defend a wrongful conviction.
–- Katie Monroe, Director, Rocky Mountain Innocence Center
---
Brown was granted a hearing to determine her innocence under a statute passed in 2008, with the help of the attorney general's office, that allows for a hearing when new evidence is discovered, even if it is not DNA evidence.
Because Brown's was the first case to put the statute to the test and because prosecutors are not convinced that Hall's testimony proves Debra Brown's innocence, they are asking that the Utah Supreme Court review DiReda's decision.
"This goes so far beyond Debra Brown right now," Shurtleff said. "This is mostly about the process."
Those with the Rocky Mountain Innocence Center who took on Debra Brown's case in 2002 said this has everything to do with Debra Brown and the details of her individual case.
"This case is about Deb Brown," said Jensie Anderson, president of the Rocky Mountain Innocence Center. "Judge DiReda applied the statute to the specific facts of Deb's case. The statute isn't a technicality, isn't something that makes it easy for someone to come forward later and prove they are innocent."
She noted that it took almost a decade to get Debra Brown's case before a judge.
Katie Monroe, the director of the center, said the whole handling of the case since Brown's release has demonstrated "an absence of leadership and an absence of courage" among the state's highest law enforcement officials.
"It is not unusual for us to witness law enforcement officials not having enough courage to do the right thing and working zealously to defend a wrongful conviction," Monroe said.
She said Shurtleff was applauded nationally for his "unprecedented" initial decision not to appeal the judge's decision and said it was "very sad" for all involved to see him reverse course.
"We're deeply disappointed in the decision and this flip-flopping," Monroe said. "It's a sad day for all of us."
In the meantime, the woman at the heart of all of this remains "optimistic and positive," Sullivan said.
"That's who she is," he said. "She has faith in the system. She believes in the system of justice to do justice. ... Debra Brown is going to go on with her life."
Email:emorgan@ksl.com
×
Related stories
Most recent Utah stories