Estimated read time: 4-5 minutes
This archived news story is available only for your personal, non-commercial use. Information in the story may be outdated or superseded by additional information. Reading or replaying the story in its archived form does not constitute a republication of the story.
SALT LAKE CITY — It seems like they're everywhere these days: medical spas where you can get a massage, Botox, SmartLipo, and your nails done all at the same time.
The word "medical" typically means these spas are run by a licensed physician, but that doesn't always mean they're safe. In fact, doctors themselves brought this issue to our attention. They say some of their fellow physicians are performing or overseeing procedures in which they have little or no training.
The 'medi-spa' industry
It seems so easy: the pinch of a needle, twinge of a chemical, sting of a laser, and you can have the smooth, flawless, toned skin and body you want — all during your lunch break.
You can just head to one of the over 100 medical spas in the state. The majority are run by doctors, licensed MD's. Patients assume they're in good hands. So why then are more and more patients walking away with serious injuries?
Complications from laser procedures performed by non-physicians
82% of all complications occurred in facilities that had no direct physician supervision. Of these, 57% were in facilities with a "medical director" who had limited training in dermatologic procedures and laser/light-based therapy. Of all the complications, 78% occurred in non-traditional medical facilities, such as free-standing medical spas and laser centers in shopping malls. -Vic A. Narurkar, M.D.
"These people are really disfigured for life," says dermatologist Dr. Paul Harrison. He regularly sees patients hoping he can their fix botched procedures from medical spas.
Just because a doctor owns or operates a spa, Harrison says, doesn't mean they know what they're doing.
"In Utah, any medical doctor can oversee any procedure. A hospital usually regulates that, so a doctor doesn't start doing brain surgery," Harrison explains. "But with things that are done as out-patient, anybody can do it in an office."
With the downturn in the economy and issues with health insurance, Harrison says in some cases physicians looking to make quick money have opened so called "medi-spas". Some perform or oversee procedures they have little or no training in.
Sometimes the physicians aren't even on site. They leave their staff to perform laser, chemical or injection treatments and visit the office a couple of times a month.
"In just a few seconds, with the fire of a laser, the laser can go very deep. Lasers are destructive," Harrison says.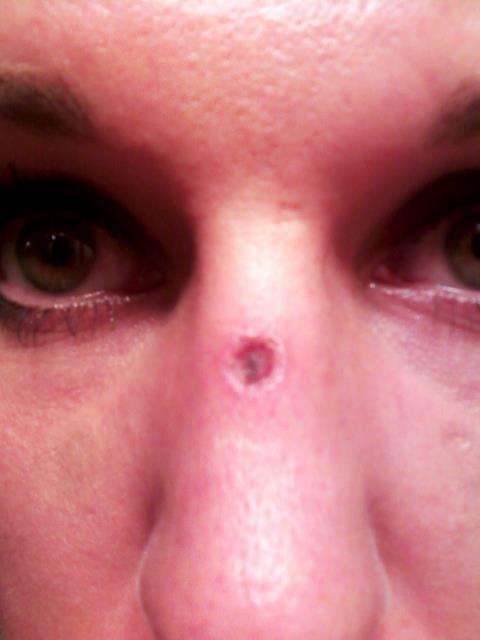 Out-patient procedure leads to major surgeryKarrie Jaramillo knows that all too well. She went to a medical spa in her hometown of Price to have a couple of sunspots on her face lightened with a laser.
"It looked like a crater — like you go to Hawaii and see craters in the earth. That's what it looked like in my flesh," Jaramillo says.
The spa she went to is run by a family doctor and Jaramillo's procedure was performed by a physician's assistant.
"It felt like someone was burning me. Each pulse that she did, it felt like someone was holding like a torch to your face," Jaramillo says.
She asked the woman to stop and was given some cream to put on her face, but Jaramillo was left with burns so severe it took reconstructive surgery to repair them. She went to Dr. Steven Mobley, a facial plastic surgeon at the University of Utah.
"Really, it makes me quite angry, because I've devoted so much of my life to providing good cosmetic care to patients," Mobley says. "Then I have to take somebody with a young, pretty, scar-less face originally, leave that patient with a scar — it's going to be a better scar, but still a scar — it's very disheartening because the whole thing should never have happened."
Mobley believes it's dangerous and unethical for doctors to perform a procedure outside of their expertise. "I think there's a gray zone," he says. "I often joke with some of my doctor colleagues that I know a lot of OB-GYNs that do Botox. I don't know any facial plastic surgeons that do C-sections."
Changes to the law proposed
Botched medical spa procedures are such a problem a group of plastic surgeons and dermatologists is banding together to fight against their fellow physicians. They've created a coalition and are pushing for legislative action.
Cosmetic procedures in a spa, salon
Don't be afraid to ask questions:
What if something goes awry?
What procedures are in place to deal with an emergency?
What training does the staff have?
Who will perform the procedure?
Is this treatment right for me?
Is this laser, device or technique appropriate for my skin type?
Have you performed this procedure before on the same body part I'm considering? May I see your before and after photographs?
Have you reviewed my medical history?
-American Society for Dermatologic Surgery
"We expect every physician to stand to that higher level and do what's good for patients," Harrison says.
Rep. Greg Hughes, R-Draper, is now looking at whether the state needs to step in and regulate. "We're going to look at the licensing and the practices of doctors and the fields that they're practicing in," he says, "and make sure that the public is truly protected."
Hughes says he plans to put together a state bill for the next legislative session. Until that happens, doctors Harrison and Mobley say the burden of responsibility falls on the patient.
"A patient needs to understand the difference between a massage and a pedicure, and a laser treatment and an injection," Mobley says. "And when you cross that line into a medical procedure, you just have to do your homework and know who's doing it."
KSL News contacted the Utah Department of Public Licensing. Officials there told us they don't have any statistics on how many botched procedures are performed at medical spas.
We want to be clear: We're not suggesting every medical spa is unsafe or that you should have every procedure performed by a doctor, and not an esthetician or assistant. Also, some doctors go through additional training so they can perform procedures outside of their specialty.
The best thing to do is to research on your own before you have a procedure done.
Email: jstagg@ksl.com
×
Photos
Related Links