This archived news story is available only for your personal, non-commercial use. Information in the story may be outdated or superseded by additional information. Reading or replaying the story in its archived form does not constitute a republication of the story.
SALT LAKE CITY - A Maryland man did something many NASCAR fans dream of when, for 10 minutes, he navigated a vehicle at the Daytona International Speedway.
What's more amazing than tooling around Dayton is that driver, Mark Riccobono, has been blind since birth.
Riccobono, 34, executive director of the National Federation of the Blind, said people underestimate what blind people can do, and accessibility for blind people is hard to come by in today's society.
But, "the potential to make progress is wide open," he said.
Take driving, for example, something that Riccobono, who is in Salt Lake to speak at the Utah federation's annual convention, said has always been on the list of things blind people can't do. He and others in his organization wanted to change that.
Researchers at Virginia Tech University took the challenge and developed the technology that allowed Riccobono to navigate the internal road course at the famed Florida speedway on January 29. He drove a Ford Escape Hybrid that had been equipped with laser-range finders and cameras similar to what is used on autonomous vehicles. Sensors in his gloves and seat helped alert him to upcoming turns and other obstacles.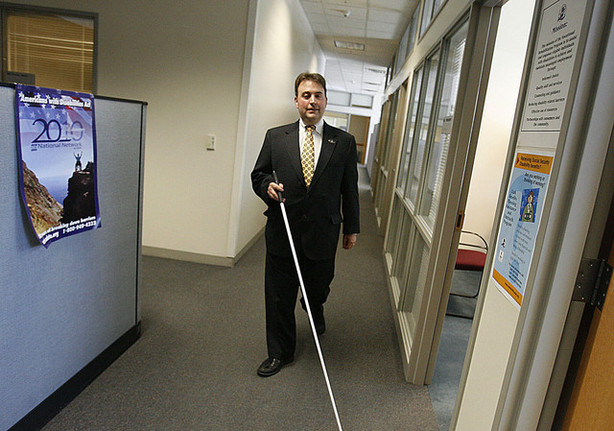 Riccobono said he was nervous when he first got behind the wheel, but he had logged enough hours in training to feel confident at the big event. He said the significance of the drive, that was attended by 400 members of the National Federation of the Blind, was less about his accomplishments and more about what he proved to those dealing with blindness — and to the world — about their capabilities.
"It didn't seem like any words could match what the demonstration was (to blind people)," he said.
Riccobono said Utah boasts one of the organization's strongest affiliates. He said the programs for blind youth are especially robust, a that Utah has been a leader in national mentoring and braille training programs.
"Utah is really changing what it means to be blind in helping blind people achieve," he said.
The National Federation of the Blind of Utah's annual conference will take place Friday and Saturday at the Red Lion Hotel, located at 161 West 600 South. More information can be found at the organization's website.
Email:averzello@ksl.com
×