Estimated read time: 4-5 minutes
This archived news story is available only for your personal, non-commercial use. Information in the story may be outdated or superseded by additional information. Reading or replaying the story in its archived form does not constitute a republication of the story.
SALT LAKE CITY -- In this economy, who wouldn't want to cut their grocery bill in half? KSL found two super shoppers who promise to save you money using two different techniques: one with coupons, one with just deals.
We issued a challenge to see who could get the most for the least in a check out challenge.
Shandra Madsen runs the website Deals to Meals where she tells subscribers where to shop and how to get the most bang for their buck -- no coupon clipping required.
Related:
"In Utah there are 11 different grocery stores that offer 'loss leaders,' or really good deals each week," Madsen said. "These are the ones you want to focus on."
Madsen spends about two hours a week scouring the ads to make sure she's getting rock-bottom prices.
"The trick is to taking the time to look through the ads, find the really good deals, and turn those into your weekly meal plan," she said.
The other super shopper is Deidre Gunnells, who runs the site Cuckoo for Coupon Deals. She started clipping coupons as a way to save money and stay at home with her kids. It turned into a passion. She takes sale prices and stacks her coupons on the already low prices.
"It's kind of a hobby... like a coupon high," she said. "How-much-can-I-save type of thing."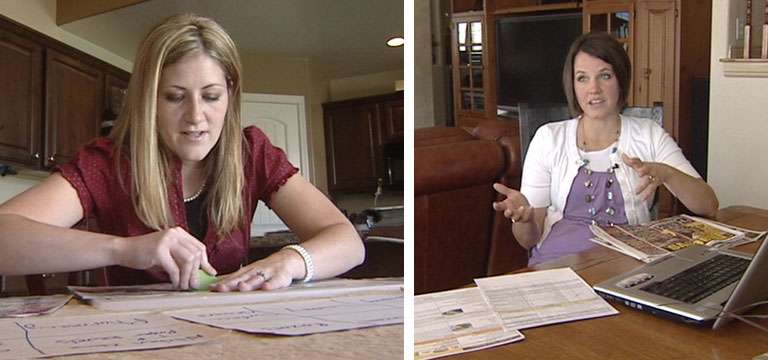 With four newspaper subscriptions, Gunnells spends about five hours a week clipping and organizing. Her coupons are sorted by category and the aisle found in the store.
For the challenge, we gave our savvy shoppers $100 and this task: buy for a family of four for one week. Then we followed their every move as they strived for savings.
The first stop for both was Walmart. For our deal shopper Madsen, she says nothing beats Walmart's price matching policy. She takes the lowest prices from grocery stores all over Utah and one-stop shops.
Finishing up at Walmart, Madsen not only came in under $100, she bought enough food for a family of four for two weeks.
"That's including chicken, bacon, ground turkey, produce, lunch items, breakfast items... Everything you can imagine," she said.
Her best bargain was a 32-ounce block of cheese. Normally nearly $9, she got for $3.99. Another great deal: off-brand ingredients for a complete pasta meal totaling only $1.38.
Related:
Gunnells came out of Walmart with bargains, too: Yogurt, milk, and Freshetta ready-made pizza, all 50 percent off.
The next stop for both was Maceys. Madsen looked for a couple more items, including frozen vegetables for just 99 cents.
Our deal shopper finished up the day spending a grand total of $99.01 -- just under budget.
Our coupon shopper Gunnells makes her coupons go further by spending the majority of her money at Maceys. She went after name-brand items like Dasani bottled water, six boxes of Kellog cereal, All laundry detergent and more.
"We also got fruit, vegetables, meat, cheese and eggs, all items that people have to eat every week," she said.
Final Totals:
Deal Shopper:
3 hours shopping
Saved on bulk and fresh food
Spent $99
Coupon Clipper:
8 hours shopping
Saved on name brands, prepared food and hygiene items
Spent $116
With some money still left over, Gunnells pulled out her coupons for hygiene items and medicine she bought at Rite Aid for next to nothing -- like Biore facial cleansers, usually about $8 each. With coupons, she spent just $1.
Gunnells coupon-clipping total for the day was $116, a little over budget since she was adding in her head.
After the challenge, KSL brought the grocery haul to a family of four, the Knaptons, to see how it measured up. Mom Andrea Knapton usually spends $200 a week on groceries, but the amount of food bought from the challenge completely overwhelmed the family.
"I'm shocked!" said mom Andrea Knapton. "I've heard of people using coupons and looking for deals to shop, but to actually see what you can get... It would probably at least cut my bill in half if not more every week."
Our deal shopper provided plenty of ingredients to make fresh and healthy meals, and our coupon shopper found plenty of name-brand items to feed her little picky eaters -- and mom's happy with the savings.
In all, our deal shopper spent three hours shopping, saved on bulk products and fresh food, and spent $99.
Our coupon clipper spent eight hours and saved on name brands, prepared food and hygiene items and spent $116.
No matter what technique you use, the savings stack up.
Email: dwimmer@ksl.com
×
Related links
Related stories
Most recent Utah stories