Estimated read time: 2-3 minutes
This archived news story is available only for your personal, non-commercial use. Information in the story may be outdated or superseded by additional information. Reading or replaying the story in its archived form does not constitute a republication of the story.
Courtney Orton ReportingAn Ogden neighborhood was the battlefield for two rival gangs early Saturday morning. Shots were fired during the argument, and that led to a standoff with police.
It began on the 600 block of Canyon View Drive. Members of two rival gangs met up, began fighting, and the situation quickly escalated.
A neighbor, Brianna Clark, said, "My brother said he heard arguing before the gunshots. Then I heard the gunshots. There was like maybe four of them. Then I heard a bunch of arguing. At first I just thought it was fireworks, maybe."
During the course of the fight, one person fired some shotgun blasts into the crowd. Three people were hit -- a 19-year-old, a 17-year-old and a 13-year-old.
Lt. Loring Draper of the Ogden Police Department said, "They had been shot in the upper body and the head. None of their injuries were life threatening."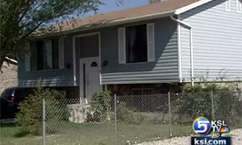 Part of the group then fled to a house around the corner. Five people voluntarily came out of the house, but police believed more were inside.
"Because of the dangers and the weapons and the gang involvement, we did a search warrant on the house," Lt. Draper said. "We contacted the Ogden Metro SWAT team. They executed the search warrant for us. Five other individuals came out of the house."
Police told Dotty Mendoza, who lives across the street from the house, to take her children to the back of her home and stay low.
"I was just terrified for my kids, if there were gunshots to go off," she told us. "It freaked me out."
The standoff at the home lasted several hours, but finally the remaining people came out one-by-one.
Another neighbor, Greg Byrne, said, "They started announcing over the P.A. to come out with their hands up. We saw several come out with their hands up."
Many residents of this small Ogden neighborhood witnessed the commotion.
Terri Byrne said, "It's nerve-wracking. It's irritating. You shouldn't have to listen to that every single night. You shouldn't have to come out your door looking at it."
Police arrested 26-year-old David Lopez for attempted criminal homicide, felony riot, and numerous weapons charges. Six other people were also arrested.
×
Most recent Utah stories