This archived news story is available only for your personal, non-commercial use. Information in the story may be outdated or superseded by additional information. Reading or replaying the story in its archived form does not constitute a republication of the story.
BOUNTIFUL — Wheelchair races aren't part of the official physical therapy program at Intermountain Medical Center.
But for 19-year-old Gates Hunsaker, who is recovering from a broken neck after a snowboarding accident, it's some of the best therapy he can imagine -- especially if he's racing with his best friend Garrett Millward.
With a big smile, Hunsaker jokes: "Dude, I wasn't even close to you, I'm in turtle speed right now!"
---
When I got hurt, it's like, 'I've got to get better, time to recover.' But it's been so much different. There's been people just swarmed around me, it's been awesome.
–Gates Hunsaker
---
Hunsaker seems to create fun moments like that, in the midst of a regular physical therapy routine, where he also creates fun moments. Home videos show him laughing and splashing water on his physical therapist, even as he struggles to bring the cup to his mouth.
In those moments, the fact that he can't feel anything from his elbows-down is also pushed aside.
His family is thankful for Hunsaker's cheerful attitude. His father says his son's progress so far is because of that attitude, and because of the support from hundreds of friends.
The family doesn't like to dwell on what happened that put Hunsaker in the hospital just one day before he was scheduled to leave on an LDS mission to Louisiana. They refer only in passing to the April 5 snowboard accident. After a big snowstorm, Hunsaker and his best friend, Millward, created a jump in an out of bounds area near Cardiff Fork in Big Cottonwood Canyon. Hunsaker tried a jump but didn't make it, landing upside down.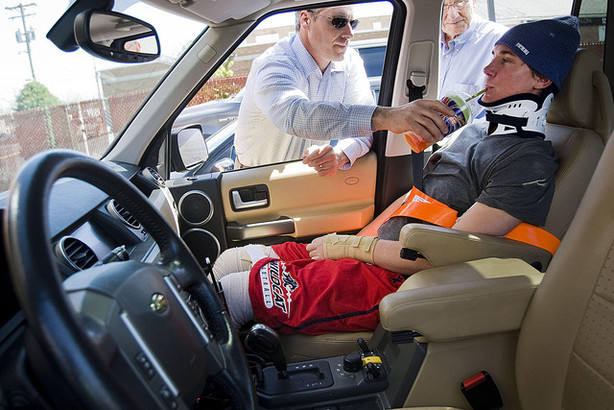 Millward rushed to him, "jumped in, grabbed him, pulled him over. He had his phone in his pocket and so I called 911," Millward recalled of that day. His fast action essentially saved his friend's life, according to the rescue crews who were on the scene.
Since then, the outpouring of assistance from the community has been nothing short of amazing, said family friend Rich Day.
Day created a blog to track Gates' progress, www.gateshopeandmiracles.blogspot.com. Since he started writing the blog, it's gathered 57,000 page views.
"I told Gates about it, and at first he was reluctant," Day said. "But just the other day, Gates told me, quite frankly, 'I didn't know how many people cared.'"
Gates' May Day Events
Saturday, May 7
8 a.m. Dan Bitner is swimming eight straight hours — the same amount of time Gates was in surgery and recovery — at Eagleridge Tennis and Swim Club, 711 S. Parkway Drive, North Salt Lake. Additional swimmers will be in the pool to raise money for each lap they swim.
1 p.m., concert with bands such as Mountain Hymns, The Spins, The Old World and Holy Water Buffalo at the outdoor amphitheater at South Davis Recreation Center, 550 N. 200 West in Bountiful. Tickets are $5.
Donated gift baskets will be auctioned off and wristbands and T-shirts will be sold at $4 each.
The blog also has pictures of Gates in the hospital, and of the 150 people who showed up at the Hunsakers' Bountiful home last month to start remodeling it to accommodate his wheelchair.
"They just went to work and cleaned up the entire mess, too," a family member said, smiling.
The outpouring of support is overwhelming to a young man who is used to being a free spirit, and doing whatever he wanted to physically.
"It's crazy, it's so much support," Hunsaker said. "When I got hurt, it's like I've got to get better, time to recover. But, it's been so much different. There's been people just swarmed around me, it's been awesome."
Millward, at his side just after the accident, continues to be by his side in the hospital and plans to until he leaves on his own mission later this month.
"I can't imagine having to say goodbye," Millward said. "Every day is about coming here. And then everything else just falls in around that."
In order to get the money to buy a specially equipped van for Hunsaker, friends have a fundraiser scheduled for Saturday, named 'Gates' May Day.' Events will be held at the Eagleridge Tennis and Swim Club in the morning, and then at a concert he plans to attend at the South Davis Recreation Center.
Swire Coca-Cola donated Sprite for the event — Hunsaker's soft drink of choice — and even some T-shirts, hats and a blanket.
Hunsaker smiled when the freebies were delivered.
"I've just been freeloading all day. It's awesome," he grinned.
Email: rpiatt@ksl.com
×
Photos
Related Links