Estimated read time: 2-3 minutes
This archived news story is available only for your personal, non-commercial use. Information in the story may be outdated or superseded by additional information. Reading or replaying the story in its archived form does not constitute a republication of the story.
SALT LAKE CITY (AP) -- A 74-year-old Vernal woman accused of fatally shooting her estranged husband over a cup of coffee nearly seven years ago has been deemed competent to stand trial.
Prosecutors charged Evelyn Christine Johnson with one count of murder for the Aug. 27, 2004, slaying of Alan Lavoy Johnson.
Uintah County authorities said the woman visited her 71-year-old husband at his residence in a Jensen trailer court and shot him five times in the head and torso with a .22-caliber revolver as they shared a cup of coffee.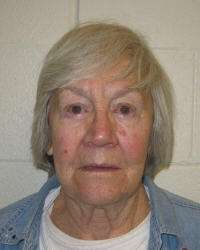 The shooting occurred one day after Evelyn Johnson said she had been served with divorce papers.
She pleaded not guilty to the charges in 2005. The case was delayed because Johnson was deemed incompetent.
On Tuesday, 8th District Judge A. Lynn Payne said Evelyn Johnson is now competent for trial following treatment at the Utah State Hospital. Payne based the determination on a recent hospital evaluation.
Payne also ordered Evelyn Johnson held in the Uintah County Jail, where her treatment can be monitored, said defense attorney, Michael Humiston.
If convicted, she could spend the rest of her life in prison.
A hearing in the case is set for May 24.
Payne first found Evelyn Johnson incompetent in 2005 and ordered her hospitalized for treatment. Court records show she was released later that year and allowed to post $15,000 bail, although prosecutors argued she should remain in jail where her medications could be monitored.
By 2007, defense attorneys again raised concerns about Evelyn Johnson's ability to participate in her own defense.
In court records, her attorney at the time said she could converse but "doesn't pay attention to important aspects of the case and she is not doing well."
Payne ordered Evelyn Johnson back the state hospital, but that was delayed for two years, because no beds were available.
"Our position has always been that she could be restored to competency," said Mark Thomas, deputy Uintah County attorney. "Each time she's spent time at that state hospital, that's what has occurred."
Thomas said he hopes a judge will set a trial date for later this year so the case can be resolved.
Humiston, who was court-appointed to represent Evelyn Johnson in February, also hopes for a speedy trial.
"I have an elderly woman in the Uintah County Jail who I believe ultimately will be exonerated and I don't want her there longer than she needs to be," said Humiston, who declined to say what type of defense he planned to mount.
In police records of her arrest, Evelyn Johnson told an officer she had sought a protective order against her husband and that he had left the marriage about a week before the shooting.
The police report also states that after the shooting, Evelyn Johnson asked a neighbor to call police and report the shooting. An officer found her crying on the front steps of the trailer home, the report states.
(Copyright 2011 by The Associated Press. All Rights Reserved.)
×
Most recent Utah stories