Estimated read time: 2-3 minutes
This archived news story is available only for your personal, non-commercial use. Information in the story may be outdated or superseded by additional information. Reading or replaying the story in its archived form does not constitute a republication of the story.
Richard Piatt ReportingThe slew of candidates running for Salt Lake City mayor are each looking to make themselves stand out. And the results of an exclusive Dan Jones poll confirm the one thing that makes a difference when it comes to a favorable impression.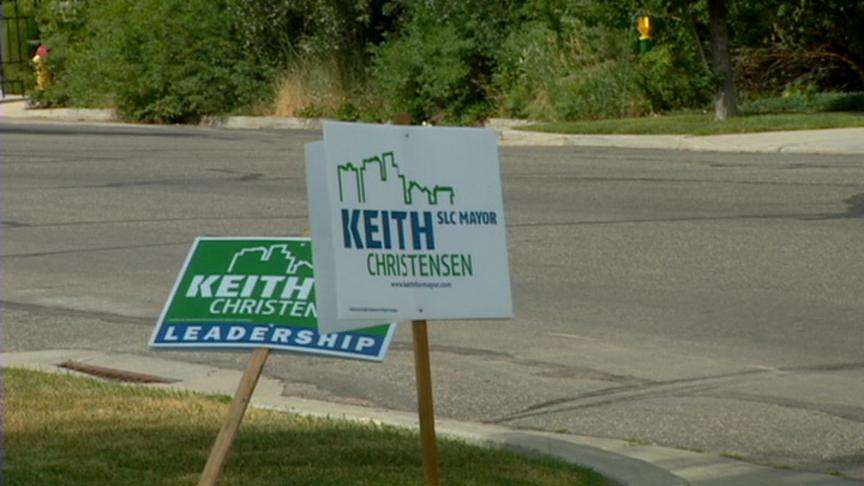 It's that personal touch: a handshake, phone call, even listening to a speech. Our poll shows that when you're a candidate for Salt Lake City mayor, little things like that make a big difference.
It's a familiar sight on most weekends, and other times, too: Candidates going door-to-door.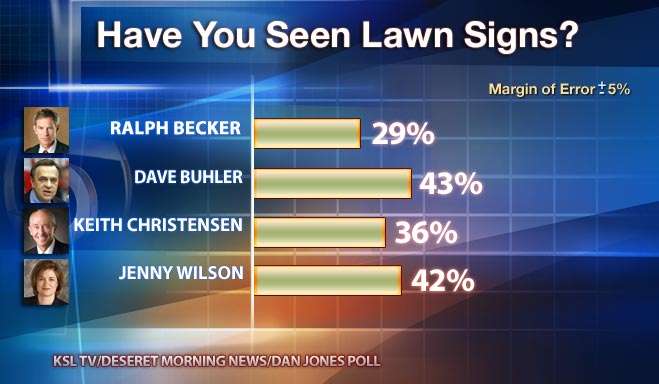 In the Salt Lake City mayor's race that kind of personal contact means a lot to voters. But the chit-chatting and hand-shaking can come at public events, on the street. Even a phone conversation counts.
But as hard as the candidates are working, most people don't get a chance at the personal touch. Lawn signs are the biggest reminder that an election is coming up.
That's according to a Dan Jones poll for KSL and the Deseret Morning News.
The largest percentage of the 400 people surveyed noticed lawn signs for Dave Buhler and Jenny Wilson most. Keith Christensen's and Ralph Becker's signs were noticed slightly less by the group.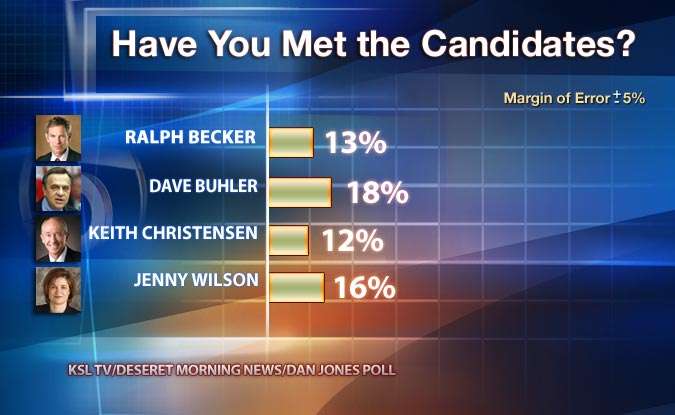 Fewer people have actually met the candidates. Just under 20 percent of the voters we contacted have had personal contact with the front-runners so far, with the primary election about seven weeks away.
The telephone is even less prominent in the campaign right now. Less than 5 percent say they've gotten a call from the candidates.
According to Jones, all these efforts -- especially the one-on-one contact -- are essential to win.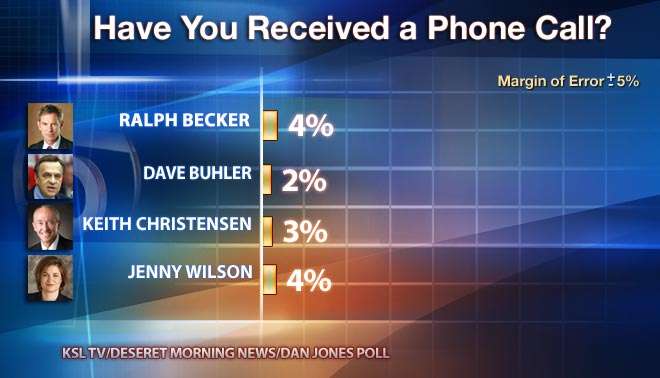 "When you run for mayor, that is number one," Jones said. "Look 'em in the eye, shake their hand, tell them 'I need your vote.'"
Keep in mind there is no clear standout front-runner right now: 26 percent of those 400 voters told Dan Jones they are undecided.
You can count on more phone calls, more neighborhood walks, and more personal appearances from all the candidates to try to win over those who are undecided.
×
Most recent Utah stories