This archived news story is available only for your personal, non-commercial use. Information in the story may be outdated or superseded by additional information. Reading or replaying the story in its archived form does not constitute a republication of the story.
MIDVALE — We've reported before about rental scams. This time, the landlord lives across the street but isn't selling the house.
Jenny Adderley just closed on a house across the street from her Midvale home. She's not renting it, so she was puzzled when her husband found it listed for rent on ksl.com
"We had a guy stop at my house and knock on the door and ask me if I knew the old couple that lived here," Adderley said.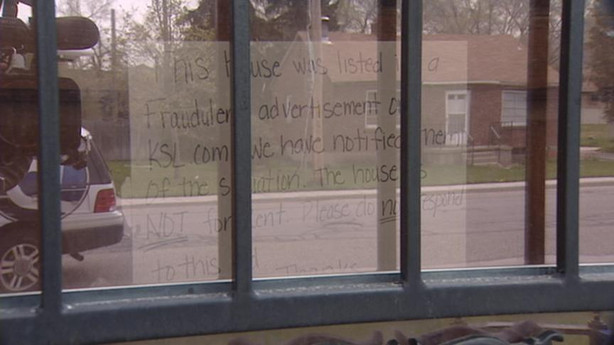 That "old couple" claimed in the online ad to be serving a three-year mission in West Africa.
"It was kind of weird trying to have someone else claim ownership of a house we just paid for," Adderley said.
These scammers list a phone number with a Nigerian country code, but only respond to unsuspecting renters via email. The price to get a key to the house: $620 a month rent.
"I hope people are smart enough to look into it," Adderley said. "I know the people that have come by haven't given any money, but I don't know how many people — we had 20 people on Saturday, and at least 10 more people yesterday.
In fact, it got so bad the homeowners had to try to divert people by putting a sign on the door telling hopeful renters the ad is a scam. Even Adderley's neighbor, who lives in the house supposedly for rent, has had to redirect people.
"There've been a bunch of people driving by and stopping by wanting to see the inside and stuff, saying they were going to rent it. They've been approved," Kimberly Al-Kenary said. "It's really 'buyer beware.' You gotta be very careful."
The FBI says the problem with some of these scams is they originate overseas, so once you give scammers money you're out of luck.
"The people that are showing up, they're not high-income people. These are lower-income people who barely have enough to survive," Adderley said.
An FBI spokeswoman recommends calling the bureau to check out an offer before you buy in.
"It's actually sickening," Adderley said. "It makes me sad that someone would come and try to steal something that they don't even own."
Meanwhile, ksl.com General Manager Brett Atkinson says monitoring fraud "is a huge priority" on the website and that the company invests a lot of its own resources to try and combat fraud. There is also information on the website about avoiding fraud and resources for someone who is a victim of fraud.
Email: niyamba@ksl.com
×
Related Links