Estimated read time: 2-3 minutes
This archived news story is available only for your personal, non-commercial use. Information in the story may be outdated or superseded by additional information. Reading or replaying the story in its archived form does not constitute a republication of the story.
John Hollenhorst ReportingKennecott has launched a major project to dig up toxic dirt on the Salt Lake Valley's west side. The arsenic-tainted soil is from a buried wastewater canal that meanders invisibly for 17 miles under fields, homes, businesses and school properties.
The toxic ditch runs under a huge field that will eventually be the site of a new high school. It's the first of 60 or 70 properties that will be studied and possibly dug up.
The rusty, brownish-orange taint of the dirt is a giveaway. It's discolored by toxic wastewater from mining activity in the 1930s.
Kelly Payne, with Kennecott Utah Copper, says, "Kennecott is accepting responsibility, and we are going to pay for this."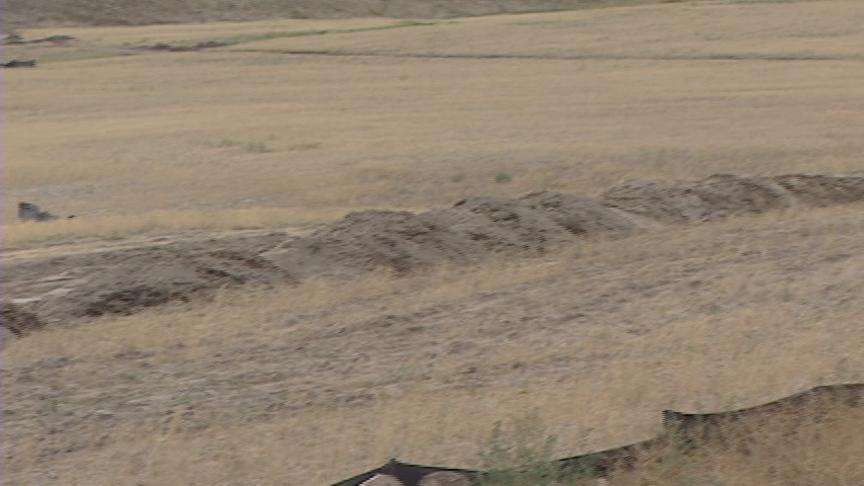 The 17-mile-long ditch was buried a couple of feet deep and mostly forgotten for three-quarters of a century. When we highlighted the problem two months ago, Kennecott agreed to clean it up. But some people who live nearby are worried about what happened before that.
The west side of the valley is booming with development. Some contractors excavated the old canal themselves, before Kennecott got involved.
Elizabeth Dehart, who lives in West Jordan, says, "Oh I'm sure dust was blowing in the neighborhood. Whether it was contaminated with arsenic is the question. And the only way to know that is to do random testing in the neighborhood."
Kennecott is now going to unusual lengths to control dust, spraying water continuously and monitoring air quality every day.
Payne says, "If we detected arsenic in that dust, we're going to evaluate what we're doing on-site to change it or make sure that doesn't happen."
This phase of the excavation is the easy part. It's a wide-open field that will eventually be the site of a Jordan District high school. More complicated is where the ditch runs invisibly under residential properties in Kearns, West Valley City and Magna. Kennecott is seeking permission from about 60 homeowners to take samples from their yards.
"If there is contamination at the surface, we'll recommend to the homeowner that it be excavated, and we'll do that for them."
Kennecott hopes to do the residential part of the cleanup next year. The tainted soil is being hauled to a certified disposal site on Kennecott property. The cost is into the millions.
×
Related links
Most recent Utah stories