This archived news story is available only for your personal, non-commercial use. Information in the story may be outdated or superseded by additional information. Reading or replaying the story in its archived form does not constitute a republication of the story.
Related:
NORTHEASTERN UTAH -- KSL 5's morning show team has spent the last three weeks traveling to every corner of the state -- much of it by helicopter, a lot of it by car, and plenty of it on foot or by boat -- to highlight interesting parts of Utah.
There's so much to see and so much to do that there's no way to cover it all. But we start with a taste of northeastern Utah, which includes Summit, Wasatch, Duchesne, Daggett, Uintah and Carbon counties.
What does this part of the state really offer? Dust off the tent and the sleeping bag, clean out the boat and get new laces for those hiking boots because the northeast is all about the outdoors.
Water recreation
This part of the state offers some of the best water recreation areas in the entire country. In fact, Utah ranks as one of the top 10 states in surface acres of boatable water. Lakes and reservoirs here include Flaming Gorge, Steinaker, Red Fleet, Starvation, Jordanelle, Echo, Deer Creek, Strawberry, Scofield, East Canyon, Rockport, Big Sand Wash and Bottle Hollow.
The northeastern part of the state offers more fishing opportunities than any other section of the state.
Travel guide & park passes
Utah Travel Guide
Free at any state park or tourism office
Contains what to do, where to go, where to stay and who to contact
Order brochure here
Annual state park pass
Cost $75, $35 for seniors
Admits you and up to seven others into more than 40 of Utah's 43 state parks
More info here
National Parks and Federal Recreation Lands pass
Cost $80
Gets you in to more than 2,000 sites around the country and dozens of sites around the state, including BLM, Fish and Wildlife Services sites, and national parks and monuments
More info here
From the dozens of rivers and streams like the Provo, Weber, and Green, to the hundreds of lakes in the Uintas, to the trophy trout and Kokanee Salmon in Strawberry and Flaming Gorge reservoirs, fishing is a major part of the economy and recreation in northeastern Utah.
With more than 1,000 lakes, 400 miles of streams and 24 peaks, the Uinta Mountains become Mother Nature's theme park to more than 2.5 million visitors every year. Horseback riding, backpacking, fishing and camping opportunities are endless.
Between the Ashley National Forest and the southeastern portion of the Wasatch-Cache National Forest, there are more than 70 developed campgrounds. This area also includes King's Peak -- the state's tallest -- at 13,528 feet.
From Starvation to Steinaker to Strawberry and Red Fleet reservoirs, the Uinta Basin provides big time boating and trophy fishing opportunities that attract people from all over the world.
It's an area rich in cultural history, with the Uintah and Ouray Indian Reservation in Uintah County, as well as remnants of the Fremont culture mixed throughout the region.
Wall Art
Besides Dinosaur National Monument, several other areas in the region offer spectacular wall art.
Dry Fork Canyon is only about 10 miles northwest of Vernal, just outside the town of Maeser.
The McConkie Ranch is a private ranch but allows public access to some of the best petroglyphs in one area. There's no fee but the ranch does accept donations. It's very accessible for all ages.
Nine Mile Canyon is just northeast of Price, but the only road in is east of Wellington. With more than 10,000 specific images and over 1,000 sites, it's no wonder this is appropriately called the world's longest art gallery. Nine Mile Canyon contains glimpses of the Fremont culture and Ute people. You'll also find pit houses, rock shelters and granaries used by the Fremont.
Mountain Biking in Vernal
Utah's most famous mountain biking trails are in Moab, but one man in Vernal is trying to change that.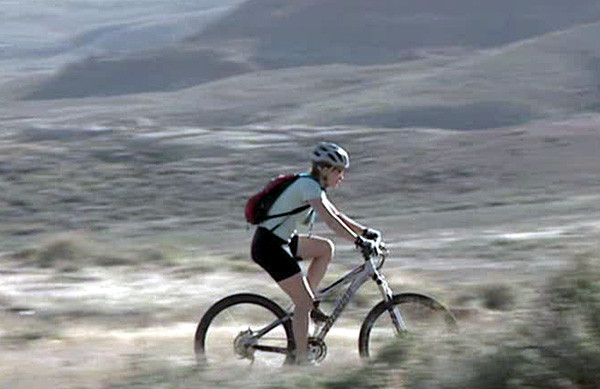 Troy Lupcho said, "We're kind of in that triangle with Moab, so some people are just kind of testing the water, if you will."
Lupcho grew up in Vernal, moved away and then came back and opened a small bike shop a few years ago. He recognized that the areas just outside Vernal on BLM land were perfect for mountain biking. So he started building single-track trails, mile after mile, and the bikers came.
One group of serious riders has been coming down from Calgary every year to mountain bike in Moab and Fruita, Colorado. But now, they always stop for a few days in Vernal to ride McCoy Flats.
Cyclist Rick Metzger said, "This is a little mellower than Moab. Moab is kind of harsh, lots of red rock, a little more technical. So this is a lot more fun."
In 2009, Bike Magazine did a seven-page feature on Vernal's Mountain Biking and Lupcho's vision. The cover of the magazine asked, "Better than Moab?"
Field House Museum
When passing through Vernal, give yourself an extra hour or two to stop in at the Utah Field House of Natural History State Park Museum. It offers an indoor and outdoor experience that warrants some family time.
Outside you'll see dozens of life-size replicas of dinosaurs and other prehistoric creatures. Inside you'll find fossils, dinosaur skeletons, and you can even dig for more fossils in one of the many interactive displays.
The museum is on the east end of town, on Main Street in Vernal.
The Green River
We were there for a big day on the Green River for Kathryn Carlin. After seven years of fly fishing and floating the river in a pontoon her kids bought her for Mother's Day, her brand new drift boat took its maiden voyage. It provides enough room to take her grandchildren down the Green River.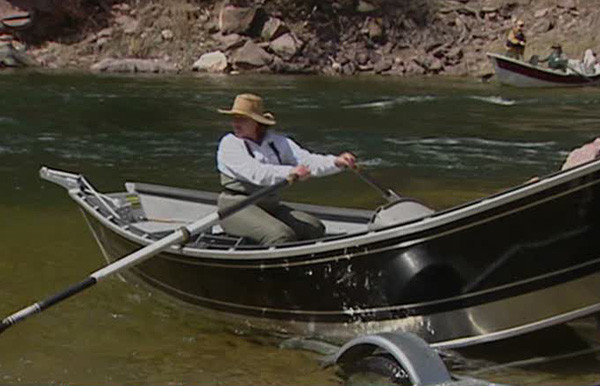 "It's beautiful, and that's part of it for me is just being on the water, whether I catch fish or not," she said.
Steve Herron and his son Jackson have been coming here for years and couldn't think of a better way to spend their spring break.
"What is there not to love?" Steve asked. "Look at this - blue sky. It's called Green River for a reason. Look how beautiful it is. It's just pure, and you can still look down in the river and see the fish."
The Green River boasts a trout population of approximately 10,000 to 12,000 per mile and has quickly gained a reputation as one of the best fly fishing rivers in the West. Flaming Gorge Dam is a big reason why.
Steve Hulet, manager of the Flaming Gorge Field Division said, "If we didn't control the temperature, the water going into the river would probably stay at 40 degrees year round."
But trout thrive at a water temperature of around 55 degrees. Through careful management, the Bureau of Reclamation controls not only how much water is released into the Green but the temperature as well, by varying the intake level from Flaming Gorge.
The higher the intake from the reservoir, the warmer the water that is released, allowing them to create the optimal conditions to produce healthy trout.
One of the dam's primary functions is to generate power.
"You can see where the water's swirling down here. Right now we've got two generator units running," Hulet said.
When the third generator is running, the dam provides power to 150,000 homes.
This is a major water resource to the area, and due to the above normal snowpack, they've been releasing water into the Green at a rate normally seen in mid to late May, as they try to make room in the reservoir for run-off.
Jones Hole National Fish Hatchery
A lot of the fish caught in northeastern Utah come from the Jones Hole National Fish Hatchery, on the Utah/Colorado border just on the northern edge of Dinosaur National Monument.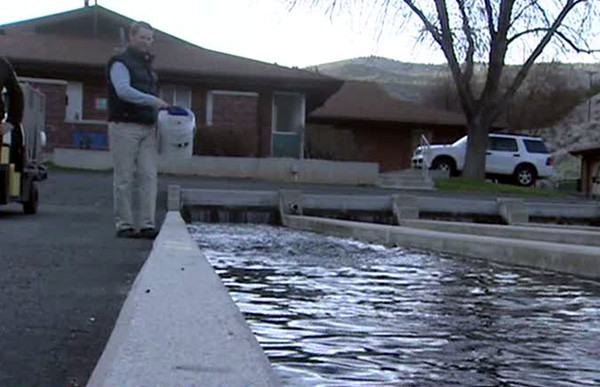 It's tucked deep in a gorgeous spring-fed canyon. Tens of thousands of trout and Kokanee Salmon are raised from eggs in hatching jars, to fry and then transferred to larger concrete tanks, and then eventually to outdoor raceways.
Once they reach 5-10 inches, the bulk of them are trucked to dozens of locations around northeastern Utah and southeastern Wyoming.
Justin Perkins explained, "We do 1.1 million fish every year; 700,000 of those go to Flaming Gorge - 400,000 rainbows and 300,000 Kokanee Salmon."
Three trucks will make up to 100 deliveries a year and help sustain the fishing industry in the area. The hatchery is open for tours and is also located near a trailhead in to Dinosaur National Monument along Jones Hole Creek.
It's about a 45 minute drive to Jones Hole from Vernal, but well worth it.
June 11 is free fishing day at the lower holding basin.
Next week we'll visit another area of Utah.
E-mail: shaws@ksl.com
×
Photos