This archived news story is available only for your personal, non-commercial use. Information in the story may be outdated or superseded by additional information. Reading or replaying the story in its archived form does not constitute a republication of the story.
SALT LAKE CITY — In the past, child abuse was dirty laundry families just didn't air.
"It was really swept under the carpet. It was quite, it was 'hush-hush,' it was 'in the house,'" said Jacosta, volunteer treasurer for the Wasatch Front Childhelp Ambassadors.
Jacosta's father is serving time in prison for abusing him as a child. He says it took about seven years to go through what he calls "a spiritual journey" to forgive and heal.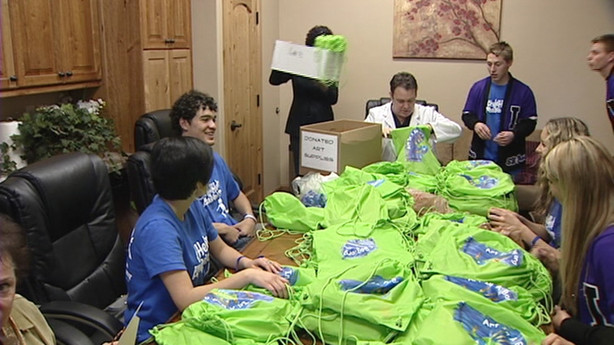 "It's been a miracle of a story, because I've been able to move on," Jacosta explained. "I feel I've been a victor now instead of a victim."
That's one of the reasons he volunteers with Childhelp — to help other child abuse victims take control of their own recovery.
The Childhelp organization is over 50 years old and in many states across the country. However, it took a while to make it to Utah. Founder Eve Foussard said that's because child abuse is still regarded as a stigma.
"And it is," Foussard said. "But it has to be corrected. It has to be cleansed."
Organized twice in its 51-year history, Foussard said the Chilhelp organization didn't quite get off the ground in Utah. But this time she's determined to make it last.
"I have a tag," she explained, "and that,'Together we will accomplish much for many.'"
One of Foussard's goals for the organization is to build a residential treatment facility — a "village" — to treat severely abused kids. She also hopes to create programs in schools where kids can feel safe to report abuse.
Childhelp is not a support group. Through its Childhelp Ambassadors branch, many of the group's volunteers are high school students, some of whom have been abused. They find comfort in serving other kids who have been abused. This fledgling branch is the only one of its kind in the nation.
---
I have relatives who have been abused and you can see how it affects them later. Childhood abuse affects their adult life. It affects the way that they treat their kids. It's just kind of a cycle.
–Reed Fletcher, volunteer
---
#fletcher_quote
Call them a new generation of victims,rather, survivors. Volunteer Ana Paula Amaya has seen the effects of child abuse in her own family.
"They were younger, and they were little kids. Their parents were really tough on them and expected so much that if it didn't come out right, they would get punished physically," she explained.
Amaya said kids are facing the experience of abuse head on these days.
"Before, you couldn't go anywhere. You'd just be by yourself and have your own thoughts," Amaya said. "But now you have help out here. Just like this group(Childhelp Ambassadors) here. That's how people can speak out."
Much of that speaking out is showing up on social media like YouTube. You can also see the group passing out popular wristbands kids like to wear these days. The bands have an 800 number so that help for abused kids is just a phone call away.
Volunteer Reed Fletcher said he doesn't know what it's like not to be empowered because his generation is growing up knowing that it's OK to talk about abuse.
"We're a lot more public and outspoken about it," Fletcher said. "Maybe it's just the individuality of younger people these days."
Fletcher volunteers with Childhelp Ambassadors because he thinks of how he'd feel if anyone ever abused his younger siblings.
"I have relatives who have been abused and you can see how it affects them later," Fletcher said. "Childhood abuse affects their adult life. It affects the way that they treat their kids. It's just kind of a cycle. Something you have to break early."
The group hopes to break that cycle with one of many projects like "Art in a Bag" — a kit with art supplies to deliver to children who have been abused.
It's the brainchild of Miss Lehi 2010, Sabrina Jaco. She is passionate about the cause mainly because people close to her have suffered abuse.
"It still has affected them," Jaco explained. "Now that they're adults, they have their own families, they still are suffering from their past."
Jaco says the Art in a Bag project is like art therapy for abused kids forced to leave their abusive family conditions.
"When they're taken away and taken to treatment centers, they have nothing," Jaco said. "And so we go and give them these art supplies and it works as treatment for them."
As a young woman passionate in the fight against child abuse, Jaco believes her generation and future generations are anxious and no longer afraid to denounce the stigma of abuse and empower others to do the same.
"They want to get the word out that they should not be afraid to let other people know and to want to get help," she said.
Childhelp Ambassadors President Deborah Fletcher says it's not only important to help kids overcome abuse but it's also important to give parents the resources to create an abuse-free environment in their homes. "They imitate what their ancestors have done," she explained. "The chain of abuse needs to be broken and it needs to be done right away."
Email: niyamba@ksl.com
×
Related Links