This archived news story is available only for your personal, non-commercial use. Information in the story may be outdated or superseded by additional information. Reading or replaying the story in its archived form does not constitute a republication of the story.
SYRACUSE — Farmers and ranchers are pleading with the state to keep the proposed Legacy Highway expansion out of their backyard. Tuesday they took Utah Department of Transportation officials on a tour of those areas that could be impacted.
Currently the Legacy Highway ends in Farmington. Some 13 municipalities in Davis and Weber counties would be directly affected by the West Davis Corridor project, which would connect with I-15 and the Legacy Parkway on the south and reconnect with I-15 in Weber County on the north.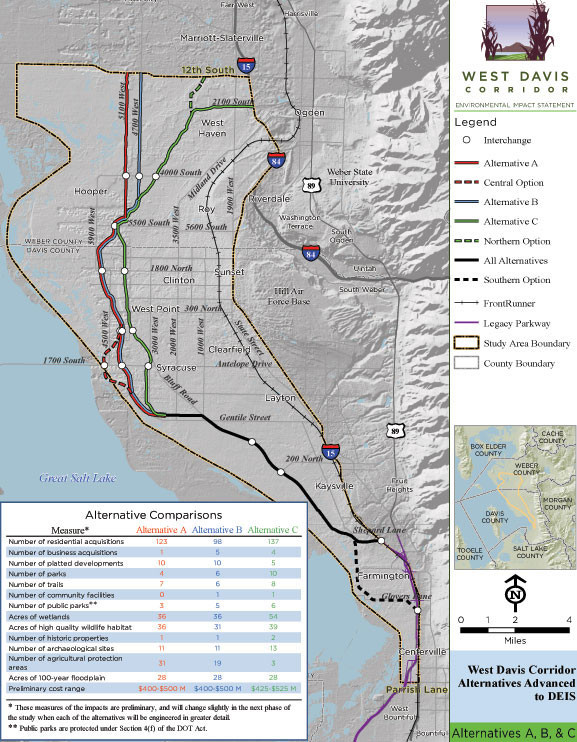 UDOT is looking at three options that would reduce the impact to wetlands and homes, but some farmers say it could destroy their way of life.
The Hamblin Dairy Farm has been in business for 107 years. But now, owner Stan Hamblin is concerned that his way of life could dry up. He says the three options go right through prime farmland and that is devastating to the agricultural community.
"This is my livelihood," he said. "This is all I've done. … We could be here another five generations, if the powers that be will let us."
New roads, UDOT says, are necessary to keep up with projected 75 percent growth in the area by 2040.
The north-south travel options — which were pared down from an original 46 different routes — begin in Centerville, where the proposed four-lane, divided highway splits from I-15, and heads west on varying routes through Syracuse, West Point, Clinton, Hooper and West Haven until it again joins the existing freeway by way of 12th Street in Ogden.
None of the three concepts is entirely free from compromise.
"It's very challenging,"West Davis Corridor project manager Randy Jefferies said. "We do understand that with the corridor there will be impacts and our goal is not only to minimize impacts, but also to find the right balance of the impacts, so that the community, the environment, the farms can share that impact."
"All three of the current alternatives go right through our farm," said Charlie Black, co-owner of Black Island Farms. "But any one of the routes would be a significant impact on us."
The agriculture producers are hopeful a tour of Davis County's farms and ranches will urge UDOT to reconsider.
Public comment for the West Davis Corridor expansion has officially closed, but UDOT says it will continue to consider feedback and make adjustments until the route is finalized in about two years.
The most expensive of the three alternatives could cost $525 million, and the least expensive option will cost at least $400 million, according to a West Davis Corridor publication.
-----
Story written by Mike Anderson with contributions from Viviane Vo-Duc.
×
Related Links
Related Stories