This archived news story is available only for your personal, non-commercial use. Information in the story may be outdated or superseded by additional information. Reading or replaying the story in its archived form does not constitute a republication of the story.
SALT LAKE CITY — Admirers of best-selling author Greg Mortenson are reeling, following an investigative report on the CBS "60 Minutes" program. The show labeled as a lie, the heart-warming story that supposedly launched Mortenson on a crusade to build schools in Pakistan and Afghanistan.
Three Utahns who organized three recent appearances by Mortenson are generally rallying to his support, hoping further information will clarify the controversy.
Related:
The "60 Minutes" report broadcast Sunday night accused Mortenson of raking in large sums of money and lying about key aspects of his personal saga. Mortenson refused to speak with CBS as the "60 Minutes" investigation unfolded. Over the weekend, however, he and his Central Asia Institute posted lengthy defenses online.
A key point in the controversy is whether Mortenson made up his story of a failed climbing attempt on K2, the world's second tallest peak. The tale has become a touchstone in his fundraising activities. Like the origin stories of comic book superheroes, it's inspiring, admirable and, according to CBS, fictitious.
As Mortenson told the story in innumerable interviews over the years, he became hopelessly lost during his K2 trek in Pakistan. "I took a wrong turn," Mortenson told KSL-TV in 2006. "I stumbled into a local village where the people befriended me and helped nurse me back to health."
That episode, plus the sight of uneducated children struggling to learn, supposedly inspired Mortenson to launch a fundraising effort to build schools, primarily for girls, in Pakistan and Afghanistan.
CBS claims that Mortenson's tale is disputed by his climbing companions, as well as by contradictory accounts Mortenson gave many years ago. The broadcast also strongly questioned another Mortenson tale, that he was once kidnapped by the Taliban. The people he described as kidnappers strongly deny the story, saying Mortenson was actually their willing guest.
In his online defense, Mortenson said he stands by his earlier stories.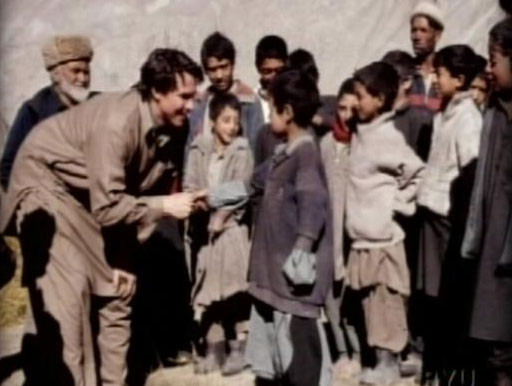 Mortenson's book describing his activities in Pakistan, "Three Cups of Tea," was a huge best-seller. He's told the Pakistan story over and over in speeches — lately for a standard fee of $30,000 a speech.
His message resonates with many who view his work as a potential path toward peace instead of terrorism. "We can drop bombs," Mortenson told a rapt crowd at BYU in October of 2009. "We can build roads, we can put in electricity, we can put in computers. But unless girls are educated, a society will never change."
Matt Mouritsen, MBA program director at Weber State University, organized a Mortenson appearance just last fall and thought of him as a hero. "We paid him $20,000, which was actually a reduced fee," Mouritsen said.
"It was excellent," he continued. "It was an excellent evening. We had 500 people in attendance, which surpassed our expectations. He is the most gracious, humble person. And he's just grateful for your support."
Among the allegations broadcast by "60 Minutes" is that that Mortenson's charitable organization, the Central Asia Institute, uses contributors' funds to cover Mortenson's expensive travel budget, while he collects book revenues and speaking fees for himself.
The Institute argues that Mortenson's speeches generate far more funds by inspiring his listeners to contribute. The C.A.I. also argues that Mortenson's speaking tours accomplish part of the charity's mission by educating Americans about the situation in Pakistan and Afghanistan.
---
I believe he's the real deal. My personal opinion is, after meeting him, I don't see him as a person who would deliberately lie.
–Kay Ackerman, organizer of Mortenson's St. George visit
---
#ackerman_quote
Many Mortenson supporters are withholding judgment about the CBS investigation. "Well, we hope it's not true, Mouritsen said. "The jury's still out. But he's done a lot of good. That doesn't change our impression of what he's been able to accomplish."
Another Mortenson supporter in Utah flatly refuses to believe the CBS allegations. Kay Ackerman arranged an appearance by Mortenson in St. George on behalf of the Dove Center, a non-profit organization that provides services to abused women.
"We were all humbled by his presence," Ackerman said. She noted that his theme of educating and empowering women matches the goals of the Dove Center.
"I believe he's the real deal," Ackerman said. "My personal opinion is, after meeting him, I don't see him as a person who would deliberately lie."
An official at Southern Utah University who arranged a Mortenson speech also defended the author. "I don't feel misled," said Jeb Branin, SUU's director of convocations.
The school paid Mortenson $30,000 for his well-attended campus speech in Cedar City on Feb. 1. "I can say his speaking fee is appropriate for a person with his level of renown," Branin said. "He could easily charge more. It was always clear to me that we were paying him, not the Central Asia Institute. He's earning a living through book sales and speaking fees."
Another accusation leveled by CBS is that many schools Mortenson claims to have built are non-existent or were actually built by others. Some schools Mortenson did build are allegedly being used for storage instead of classes.
Branin said he has read the detailed responses to CBS's questions posted online by Mortenson and the Central Asia Institute. "It seems to me they answered those questions satisfactorily," Branin said.
Email: hollenhorst@ksl.com
×
Related Links