Estimated read time: 3-4 minutes
This archived news story is available only for your personal, non-commercial use. Information in the story may be outdated or superseded by additional information. Reading or replaying the story in its archived form does not constitute a republication of the story.
Dick Nourse Reporting What's the secret to long life? The elders of Cache County may have some answers. In the 1990 Census, the county had the oldest people in America, and since 1995, researchers have tracked their lives in a study that's funded by the National Institutes of Health.
Researchers say the secrets of long life in Cache County are partly in the genes. Dr. Ron Munger says, "Now we have followed people for 13 years. We're observing people into their late 80s and 90s, and there are very few studies of a long-term nature observing a healthy aging population."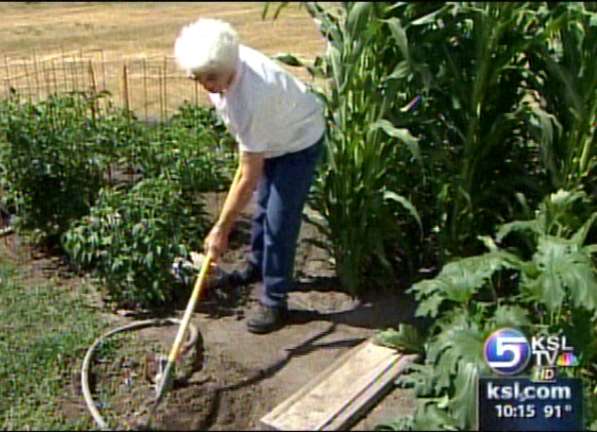 Delores Olsen is 82; her husband, Dean, is 88. They are among the 5,000 Cache County elders who agreed to participate in the study.
The Olsens say they have been active throughout their lives. "Yeah, we turned the farm over to the boys about two years ago. Right up 'til then he was on a tractor and goin'," Delores said.
The Olsens raised nine children on their dairy farm outside Logan. Dean can't see very well anymore, but he refuses to retire altogether. Delores told us, "Yeah, he still likes to go to the barn every evening and help put the milkers on the cows."
Delores is a force of nature, tending her vegetable garden and taking care of her husband. She says she's always eaten well. "I prefer vegetables and fruits and meat and spuds. He's a meat and potato man. He never liked his vegetables! And I told him, 'That's why you're goin' blind now cause you didn't eat your carrots and spinach!"
Cache County researchers are learning that fresh fruits and vegetables are a key now to keeping a sharp mind. In fact, scientific evidence from this study shows the nutrition in whole foods, wrapped in its original packaging, is critical for people at any age, and far better than a vitamin or supplement.
Dr. Munger suggests we all "be physically active, maintain a healthy body weight and avoid diabetes. But the important fact is that if we can just delay the onset of Alzheimer's disease by five years, on average, we can cut the occurrence of the disease by 50 percent."
Dr. Munger says there's another reason why researchers from all over the world are tracking the Cache County study. "What we've discovered is a treasure trove of genealogical data and have linked that to medical records. And this has allowed us to define all of the family relationships," he says. "The linkage with the Utah population database, that is, no other dementia study has done that!"
Thanks to Dean and Delores Olsen, and the other participants in the Cache County study, people the world over will know a lot more about aging.
Delores told us, "I don't intend to put him anywhere, and I don't intend to go anywhere. Right here!" When we asked her what she attributes to longevity, she replied, "Just keep breathin'!"
The Olsens have 46 grandchildren and 36 great-grandchildren, so far.
Besides the National Institutes of Health, other major universities collaborating with Utah State University include the University of Utah, Johns Hopkins and Duke Universities and the University of Washington in Seattle.
×
Most recent Utah stories