Estimated read time: 4-5 minutes
This archived news story is available only for your personal, non-commercial use. Information in the story may be outdated or superseded by additional information. Reading or replaying the story in its archived form does not constitute a republication of the story.
photo courtesy of Shayla Sperry**If you have photos of this wildfire you wish to submit, please send them to photos@ksl.com**
Update:
A wildfire destroyed a campground and motel and quickly scorched thousands of acres in Juab County, forcing an airlift of 18 Boy Scouts and hikers from Nephi Canyon. "They'd had to get up in some real rough, rocky area to get away from the fire, so it could have been bad. But with quick work by the helicopters, they were able to get out," said Bert Hart, a spokesman at the U.S. Bureau of Land Management.
By Friday, the fire had consumed 20 square miles, or more than 13,000 acres, officials reported. The fire began Thursday in a KOA campground in Salt Creek Canyon, 85 miles south of Salt Lake City. The campground, a motel and several vehicles were destroyed, the U.S. Forest Service said. All campgrounds and cabins along the 32-mile Nebo Loop, a scenic road in Uinta National Forest, were evacuated. The cause still was under investigation, but there was a report of a car shooting sparks from the brakes, Clark said. In southwestern Utah, fires that began in the backcountry of Zion National Park spilled into private land and other federal parcels. The Dakota Hills fires have burned more than 8,000 acres, or 12.5 square miles.
Evacuations were ordered and some structures were threatened, although numbers were not immediately available.
The weather forecast called for another day of 100 degrees or more throughout Utah.
(Copyright 2007 by The Associated Press. All Rights Reserved.)
---
Sam Penrod Reporting
There's yet another major wildfire burning in Utah tonight, this time in Central Utah, just east of Nephi in Juab and Sanpete Counties. The fire started this afternoon in Nephi Canyon, and within an hour it had spread over hundreds of acres.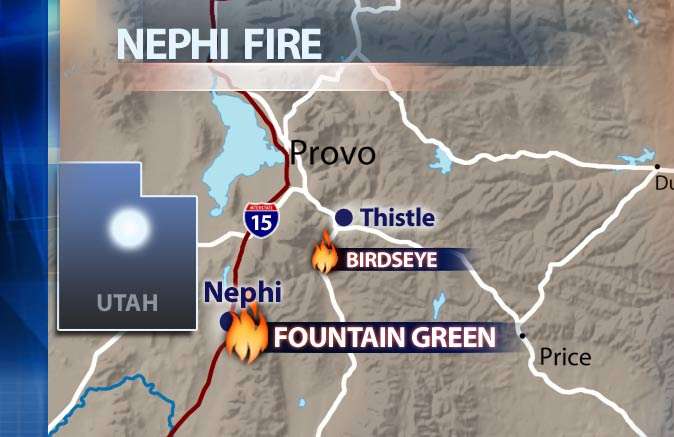 The fire is still raging tonight, going both north and south of Nephi Canyon. Officials report more than 5,000 acres have burned, and it's still growing.

At 4:30 this afternoon, a powerful whirlwind blew along the highway and flames burned right up to the road. Motorists found themselves caught in the middle.

Nephi resident David Tatton told us, "Both sides of the road were engulfed in flames. Went down and found a place to turn around so we could get out of there."

There were panic moments for those trying to evacuate themselves and their RVs from private camping areas. Throughout Nephi Canyon there was a sense of urgency, as those whose homes are in the canyon fled from the flames. A beekeeper, with his hives in harms way, loaded up his bees and drove away, swarms followed behind.

Several neighbors try to protect one home, helping out the owner whose wife is in the hospital. Lynn Ingram said, "We're trying to do what we can to save their property; hopefully it won't get to it."

An air tanker loaded with fire retardant attempted to protect power lines below. The flames kept pushing on both sides of the highway and it appeared acres were consumed every minute.

To the north the fire swirled into a tunnel of flames. On the south, 25 cabins in the Holiday Oaks development sit in danger. A fire tanker swooped down into the smoke; a risky, yet brave attempt by the pilot to try to build a fire line.

Throughout the evening, the flames raged and wild land was consumed in an instant. At 6:45 we went back down the canyon to see what had burned. A house the neighbors had been hoping to save was spared, thanks to volunteer firefighters who kept the flames away. But the hillside behind the home was scorched in a matter of minutes.

The spot where the beehives stood was all burned up. The old KOA campground in the bottom of the canyon was mostly destroyed, including at least one RV and a pickup truck. Even the campground's swimming pool has been burned up.

Horses stood in the burned out area, wondering where they would go as they were surrounded by the fire. A herd of sheep kept climbing the mountain to escape the smoke and flames. With it being so dry and hot, there's no relief in sight for this fire. There have been some power outages from the fire, but nearly everyone has power again.

This fire is believed to have started from some sparks from a vehicle's brakes. It's still under investigation, but is definitely human-caused.

A type-one fire team has been ordered. That's the same type of response given 10 days ago to the Milford Flat fire, but it will take time to get those resources here to attack the fire.

×
Photos
Related links
Most recent Utah stories