Estimated read time: 2-3 minutes
This archived news story is available only for your personal, non-commercial use. Information in the story may be outdated or superseded by additional information. Reading or replaying the story in its archived form does not constitute a republication of the story.
Keith McCord ReportingAn update now on the dog who was rescued from a burning house-trailer and saved by paramedics. "Cisco" is still at the vet's office, in an oxygen chamber, and being treated with antibiotics.
The doctors at Central Valley Veterinary Hospital in Salt Lake believe he'll be fine. He's still stable and getting-around-the-clock care, which also means he's racking up quite a bill!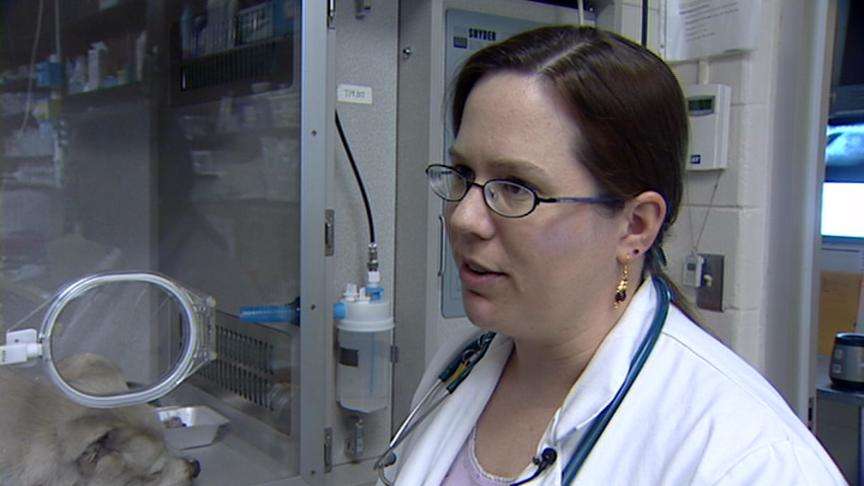 If Cisco could talk, he'd tell us that he's feeling pretty lousy right now. He's on an intravenous drip to keep him hydrated, he's getting pain medication, and is in an oxygen chamber to help him breathe easier.
Dr. Laura McLain, with Central Valley Veterinary Hospital, says, "He doesn't have any burns, it's just the smoke damage. His eyes are also very inflamed because of the heat and chemical irritation."
Cisco was rescued late Tuesday night from a burning house-trailer on North Temple. He had inhaled a lot of smoke, and paramedics worked on him for a solid half-hour to get him stabilized. When he was taken to Central Valley Veterinary Hospital, Cisco was x-rayed and then put into the oxygen chamber, where he's getting twice the normal amount of oxygen.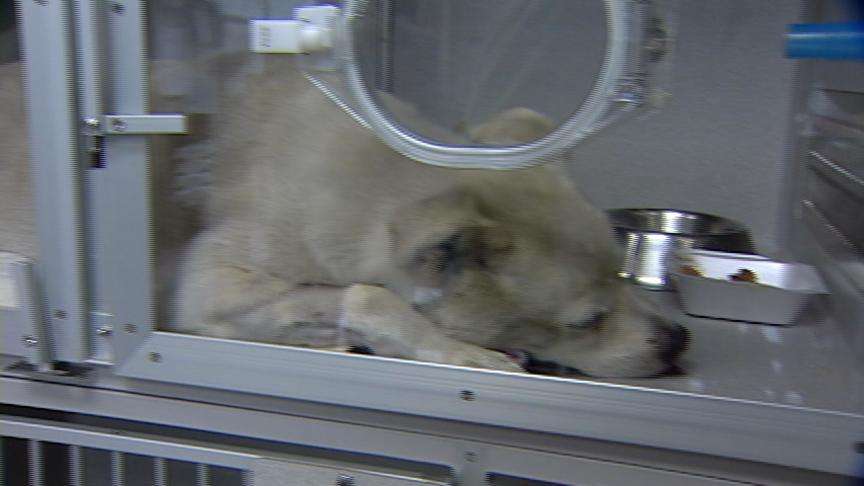 "He's stable at this point. He's not entirely out of the woods, but about as good as we could expect, given what he's been through," Dr.McLain said.
She says Cisco has been coughing up fluids, which is a good sign because the fluids can lead to infection and possible pneumonia. Smoke inhalation cases with animals is not that common, but the treatment is the same as with humans and, as you might expect, quite expensive.
"Yes, he's at about $1,000 right now, so if he has to stay the rest of the week, we could be looking at $3,000 to $4,000."
Cisco's owner is facing financial issues of his own right now, since the fire destroyed his trailer and everything inside. The vet hospital is accepting donations to help with Cisco's care.
Dr. McLain is pleased with how Cisco is doing, and gives him an 80 percent chance of a full recovery. She says, "We just need time, basically, to nurse him through it."
After our story last night about Cisco, a number of viewers asked if they could make donations. If you want to help with Cisco's vet bills, contact Central Valley Veterinary Hospital. They're located at 55 E. Miller Ave., Salt Lake City, Utah 84115. Or you can call them at 801-487-1321.
×
Related links
Most recent Utah stories