Estimated read time: 2-3 minutes
This archived news story is available only for your personal, non-commercial use. Information in the story may be outdated or superseded by additional information. Reading or replaying the story in its archived form does not constitute a republication of the story.
Amanda Butterfield ReportingA Utah pizza place just got busted for overworking its teenage employees. Now it has to pay tens of thousands of dollars in fines. So, how do you know your children's employers are not exploiting them, too?
A Little Caeser's Pizza in Sandy has been fined by the Labor Department for pushing its 14- and 15-year-old employees too hard. We dug through Utah and federal law to let you know about the rights your kids have in the work place and what to do if they're not being treated fairly.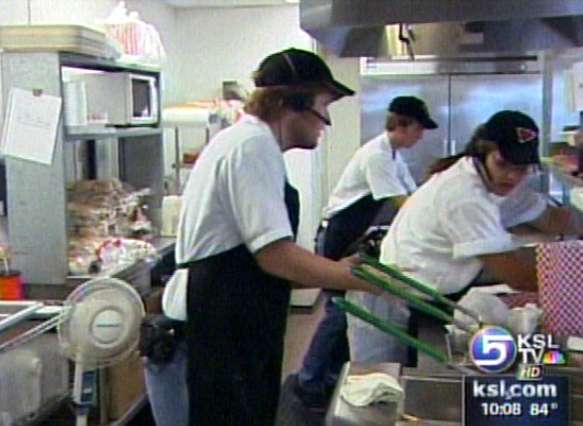 Josh Jensen loves working at Ab's Drive In in West Valley City. "You know, using my skills to get food out fast and delivering to customers," he says. He's 17 years old, which means he's entitled to certain rights on the job, like two 10-minute, paid breaks and a 30-minute lunch; and Jensen is aware of it.
"They have them posted in the back, how long people under 16 are allowed to work and the laws, so I'm informed when I'm here," he says.
Jen Smith, Manager of Ab's Drive-In, says, "You want to start their experiences as a good job rather than a bad one."
It wasn't a good experience for some employees of a Little Caesars in Sandy. The Department of Labor cited the store for having some of its teenage employees operating hazardous equipment and for working some of them too many hours.
Brent Asay, with the Utah Labor Commission, said, "We would like to see youth in the working world, but at the same time, we're worried about their safety and well-being."
According to the Utah Labor Commission, most businesses in Utah adhere to the Fair Labor Standards, which set clear guidelines for employees, depending on their age. Brent Asay says if you discover your child isn't being treated properly at work, "then can call us and we can contact the employer. We won't use their names. For the most part, employers are pretty good about it."
If you ask Jensen, his employer is really good. "I don't feel like I'm getting cheated at all," he says.
Little Caesars Utah, LLC, will pay over $110,000 in penalties and has also agreed to create a year-long youth employment educational campaign.
×
Related links
Most recent Utah stories