Estimated read time: 2-3 minutes
This archived news story is available only for your personal, non-commercial use. Information in the story may be outdated or superseded by additional information. Reading or replaying the story in its archived form does not constitute a republication of the story.
Andrew Adams, KSL NewsRadioThey're great for business. They're good for tourism. They are Wi-Fi hotspots. And more cities, including Salt Lake, are offering them for free.
But FBI and others are concerned about the hidden dangers. The feds are even warning cities.
They're in pubs. They're on Main Street. Wi-Fi spots are everywhere. In Miami it's huge. In Salt Lake it's growing.
Pete Ashdown's company, Xmission, runs the service for Salt Lake City.
"We've had the Salt Lake Convention and Visitors Bureau tell us how helpful it is coming into town, especially coming into conventions, to have a place that they can go and have free access to the Internet," Ashdown said.
Patrick Kiernan, FBI supervisory special agent, said, "We are making an effort to get out there in the community and warn them and alert them to these issues."
Yeah, Keirnan says there's a hidden danger.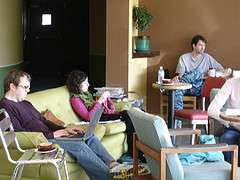 "Any place where there's a hot spot, it's basically an open network. And hackers can go to that location and see which computers -- there's software that can tell which computers are on the network."
From there, it's a matter of technique, technology and willpower.
This is the war room at Senforce Technologies in Draper. That's the whole reason the business is around: wireless insecurity.
Ed McGarr, the company's marketing vice president, said, "The technology needs to be there to mitigate the growing threat that is growing out of control."
McGarr says his company supplies corporations, even the Defense Department. The FBI? It doesn't mess around with the technology, period.
Agent Kiernan said, "They're very strict here in the FBI about computer security, network security, taking work on the road with you. We just don't do that." He says they've learned the lesson. And they're hoping cities will be responsible in either avoiding the risks or telling people about them.
Ashdown said, "Don't trust anything to be sent over a wireless network that you have any concern about being intercepted."
Salt Lake City and its Wi-Fi provider will warn you, but they won't protect you. They liken themselves to a provider of pay phones. Crimes can happen on those, too, they say. But it's not their problem. They simply offer the service.
×
Most recent Utah stories